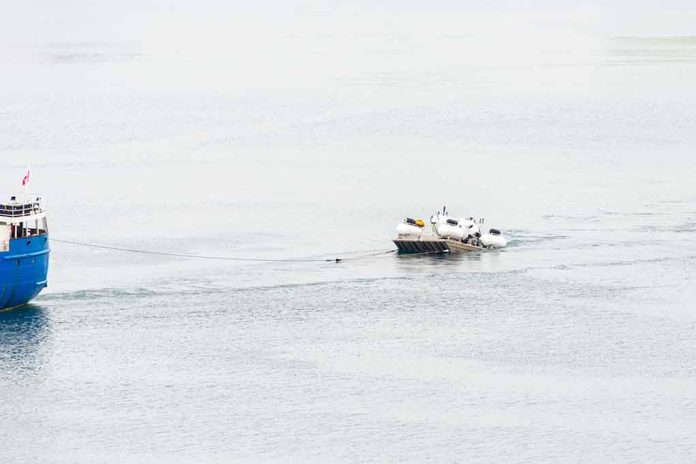 (BrightPress.org) – Five people have gone missing after their submersible vehicle failed to return to its base after an 8-hour tour of the Titanic was supposed to be completed on Sunday, June 18th. The U.S. Coast Guard searched an area covering 10,000 miles but by June 21st had not found any indication of the vehicle or its crew.
The sub is owned by OceanGate Expeditions which charges $250,000 per ticket to go on the tour. Newsweek spoke with Oceanography Professor Simon Boxall who listed three possible reasons the sub is missing. Boxall suggested that the vehicle suffered a catastrophic power failure, became entangled in something preventing it from moving, or imploded due to the deep-sea pressure and a mechanical failure. He also explained that radios don't work underwater, making communication difficult.
The five people aboard include Hamish Harding, a British billionaire who's previously gone to space aboard a Blue Origin flight along with famed astronaut Buzz Aldrin. Father and son duo Shanzada & Sulaiman Dawood were also aboard. Dawood is a vice chairman for Engro Corporation, a major Pakistani energy and technology conglomerate.
Deep sea diver Paul-Henri Nargeolet led the original 1987 Titanic diving expedition and is a decorated French naval diver. Stockton Rush is the CEO and founder of OceanGate.
In the aftermath of his disappearance, a short interview clip has circulated where Rush elaborates on his hiring practices for OceanGate. Commentators quickly pointed out that Rush disparaged former military "50-year-old white guys" for being not inspirational enough for his preferences and suggested whatever happened to the vehicle could be due to hiring incompetent youths instead of experienced older men.
A banging noise was recorded at regular intervals near the Titanic's wreckage near the sub's last known position, inspiring hope that it was the submersible. One sonar expert suggested that the noise was due to the wreckage itself and that it'd be "wishful thinking" to presume it was the missing men.
At the time of his interview on Tuesday, Boxall suggested the sub had roughly 96 hours of air in the best possible conditions, meaning that rescuers could find them alive through Thursday, June 22nd. Sadly, come Thursday, wreckage believed to be the collapsed hull of the sub was located. The crew is presumed dead following a "catastrophic explosion."
Copyright 2023, BrightPress.org