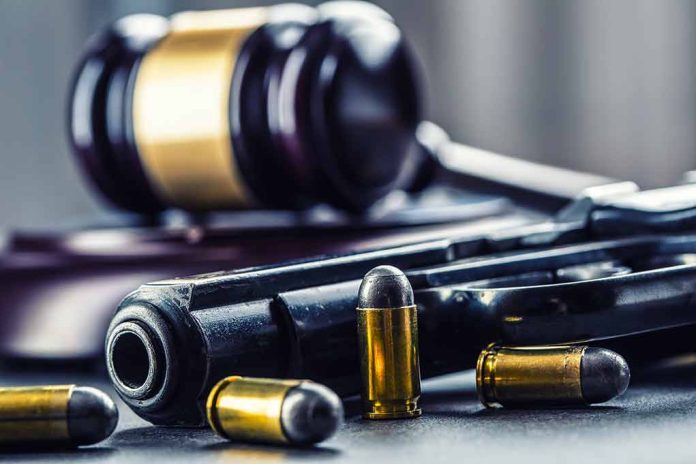 (BrightPress.org) – St. Louis city mayor Tishaura Jones is in the crosshairs of Missouri Attorney General Andrew Bailey after her August 22nd press briefing regarding new gun legislation. Jones held a listening session to discuss the proposal, which includes banning people from carrying so-called "military-grade" weapons in city streets.
Jones's description of the other parts of the legislation was somewhat vague. She claimed it would "take action on ghost guns and similar untraceable firearms" and prevent minors from coming into possession of firearms. In addition, the legislation would also make it illegal for anyone who has been convicted of a hate crime or insurrection to possess a firearm in the city. 
Jones also said that the legislation would allow the city to make preparations for the state's passage of Blair's Law, which will likely be reintroduced when the legislature reconvenes this fall. The proposed law was named after an 11-year-old who was killed by a stray bullet while watching fireworks on July 4th, 2011. The law would criminalize celebratory gunfire within city limits, which lawmakers believe would deter the activity.  
In July, Missouri Governor Mike Parson vetoed a bill that included Blair's Law due to several flaws in the language. Parson said that the bill contained a provision that would have allowed those who have been convicted of child exploitation to remove their names from the offender registry and be allowed to have their records expunged. 
Shortly after Mayor Jones's announcement, AG Bailey made one of his own. He discussed the letter that he sent to the mayor's office, explaining that the bill would violate the state constitution. He encouraged Jones to fight crime in the city by enforcing current law and to "go after criminals, not guns." 
Jones has the support of the St. Louis Board of Aldermen but expected Missouri Republican officials to take issue with her proposal. She said that St. Louis city police have taken 1,660 guns off the streets this year. Another gun bill recently passed by the board would require people who openly carry firearms to obtain a concealed carry permit. 
Copyright 2023, BrightPress.org