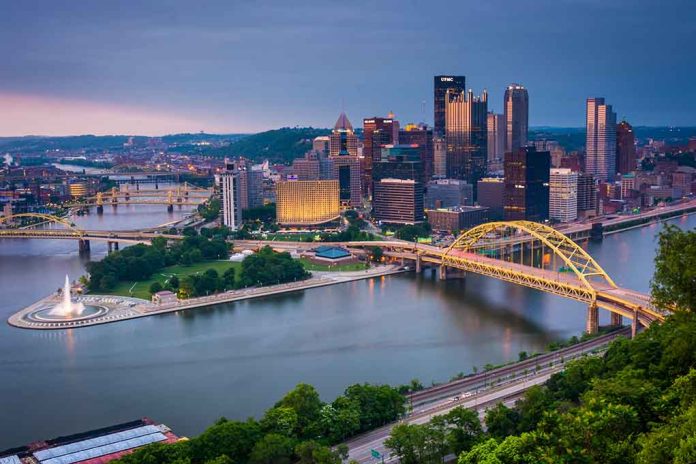 (BrightPress.org) – A loud explosion rocked the University of Pittsburgh's campus on Tuesday, April 18th during a controversial debate about the legality of hormone and surgical treatments for people suffering from gender dysphoria. 
Conservative commentator Michael Knowles was scheduled for the discussion "Should transgenderism be regulated by law?" which triggered activists to respond en masse. 
Protesters outside the venue chanted "Fascists go home!" along with other inflammatory slogans. At several points, smoke bombs and fireworks were deployed. A loud explosion shocked the crowd inside and outside the venue; officials called it "an incendiary device." Thankfully, no injuries were reported. 
The police seemed to avoid making any arrests, despite the use of improvised explosives and an effigy of Michael Knowles being set ablaze in the street outside the venue. Would Pittsburgh Police have behaved similarly if these tactics were used by conservatives at a Drag Queen Story Hour protest? 
This is just the latest in a series of events on the Pitt Main campus. Professional swimmer Riley Gaines visited recently. She came to prominence for speaking out against being forced to compete against Lia Thomas, a transgender woman formerly known as William. Her visit to the campus was similarly protested. She, too, was threatened with physical violence, and students, faculty, and local politicians attempted to have the event shut down. 
The University of Pittsburgh published a statement about the incident, describing the use of "several devices which produced significant smoke" in addition to "an incendiary device" which was tossed at the police. Traditionally, one could call these acts of terrorism – that is, the use of violence or fear to intimidate political opponents. Curiously, there is very little corporate media coverage of the incident, and no arrests have been announced at the time of writing. 
The university had paid actor Dylan Mulvaney, a transgender social media star who has made millions off her endorsement deals, to come to campus on March 22nd. The contrast between the treatment of Mulvaney versus conservatives is quite telling. 
Copyright 2023, BrightPress.org