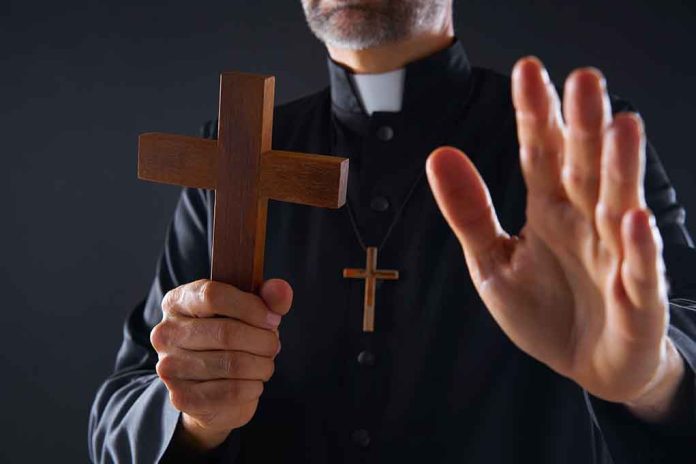 (BrightPress.org) — Nancy Pelosi allegedly had priests exorcise her San Francisco townhome over Thanksgiving after her husband Paul was attacked with a hammer, according to an interview with her daughter given to the New York Times published on Saturday, January 20th. In an op-ed entitled "Nancy Pelosi, Liberated and Loving It" her daughter, Alexandra, spoke about how the attack "broke her" and led to her inviting priests over for prayer services and an exorcism of the property.
She's described herself as a "devout Catholic" even though she's very publicly in favor of allowing women to terminate their pregnancies at any point before birth. Some Democrats have been advocating for post-birth or 'perinatal' abortions, prompting a wave of anti-abortion sentiment to sweep the nation.
David DePape allegedly broke into their home and attacked Paul Pelosi with a hammer during an interaction with police present. The details of that break-in are hotly contested and the trial of Mr. DePape is ongoing. Crucially no video footage has been made available, and rumors regarding Paul's extracurricular activities have been swirling for decades.
Local parish priest Fr. Arturo Albano said none of his priests were involved in the rituals. "As far as I know, no exorcism or priest services were performed at her home," prompting the question of where these priests came from who performed the services described by her daughter. It is possible Pelosi went outside her local parish to find help as San Francisco Archbishop Salvatore Cordileone banned Nancy from receiving holy communion due to her pro-abortion stances last May.
After reaching out to her multiple times privately, he published a statement that declared she was no longer welcome to receive communion due to "the grave evil she is perpetuating, the scandal she is causing, and the damage to her own soul," regarding her pro-abortion stance.
Copyright 2023, BrightPress.org