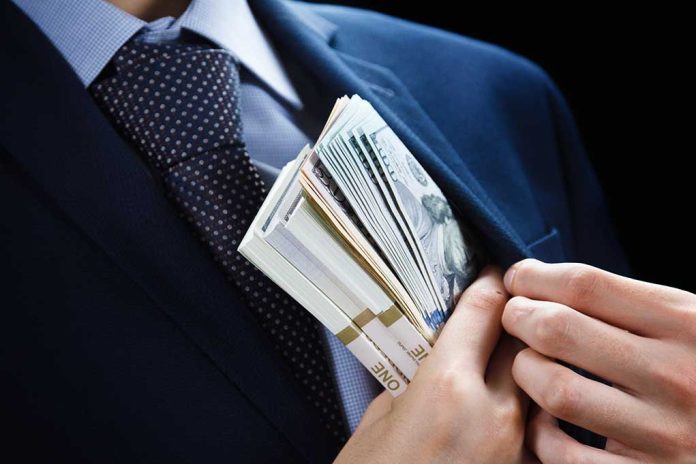 (BrightPress.org) – The First Son has finally admitted that he made millions on his Chinese business deals. On Thursday, March 16th, a spokesperson published a statement from Hunter Biden acknowledging what they could no longer conceal: Hunter made millions from Chinese business connections.
The statement reiterated younger Biden's right to earn an income, while acknowledging the returns went to himself, his uncle James Biden, and Hallie Biden, his brother's widow with whom he was romantically involved at the time.
The statement was an obvious deflection from information coming out of the House Oversight Committee which confirmed that the Biden family received a 3 million dollar wire transfer from a Chinese energy company, as well as additional payments after Joe Biden left the vice presidency.
This is the first time Hunter has officially acknowledged that he received Chinese money. The information we've been told has changed so many times, it's hard to keep up with the latest narrative. The first time we heard about this was in 2018, and at that point, they denied the situation entirely. The next change came when they admitted the work was done but claimed no money was made off the deal. Then they claimed they made money, but that Joe Biden wasn't aware of the particulars. How many times will the Bidens change their story?
White House spokesman Ian Sams called the facts "a disgusting attack." The facts sure aren't looking good for Joe. Whistleblowers are claiming President Biden benefited indirectly from the funds through various LLCs which covered his living expenses. How is it not a conflict of interest when a foreign power pays a politician's family millions of dollars?
Further, if you're the president and you're using shell corporations to shuttle funds from the Chinese Communist party to your personal bank account, that doesn't isn't what one would call "transparent" or "above board." Comer pointed out that it's not even friendly nations that Biden's taking money from, it's more antagonistic nations like Russia, China, and the United Arab Emirates.
Are these conspiracy theories or conspiracy facts?
Copyright 2023, BrightPress.org