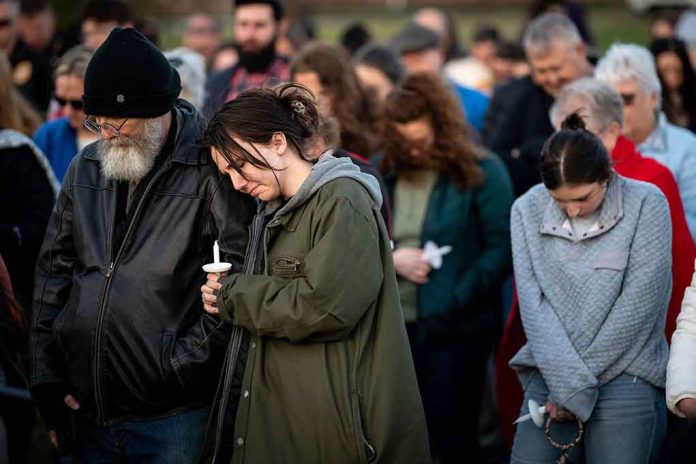 (BrightPress.org) – Within 24 hours, Nashville police released the bodycam footage showing the entry and killing of Audrey Elizabeth Hale, a 28-year-old female who identified as transgender and formerly attended the Covenant Christian School, where she went on a violent murder spree, killing three children and three adults in Tennessee on Monday, March 27th.
Officers can be seen searching the building and attempting to gain access to the second floor where the shooter was located. Officers Rex Englebert and Michael Collazo were credited with their swift, effective action which ended the shooting spree only a few minutes after they arrived on the scene. 
White House Press Secretary Karine Jean-Pierre was blaming Republicans within hours of the news breaking while speaking with MSNBC. Journalists and other left-wing pundits were quick to follow with similar sentiments. Some openly mocked the fact that a Christian school was attacked, and then pivoted to claiming victim status when their poor behavior was condemned. David Pakman, for example, made a horrible joke about them failing to pray enough, which was roundly condemned. The next day, he deleted the tweet and claimed he was being threatened with "antisemitic remarks" in emails. 
Other commentators implied that the move was "understandable" given the passage of legislation in Tennessee that outlawed surgical and/or hormonal treatments for minors. They also recently outlawed lewd performances, stripteases, and other burlesque entertainment in Tennessee, inflaming radical leftists. 
Newsweek had an interesting perspective, comparing the fact that "assault weapons remain legal" with the recent legislation. "Assault weapons" is a nebulous term that has no practical definition, and there's no amendment guaranteeing drag shows or gender transitioning for minors. There's the additional fact that most gun violence resulting in harm to a child is handgun-based. 
Curiously the shooter's mother was pro-gun control, but those values were not imparted or imposed on her daughter, who was well-armed. Social media posts from Norma Fort Hale shared by the New York Post show that she was in favor of gun control, in theory anyway.
Copyright 2023, BrightPress.org