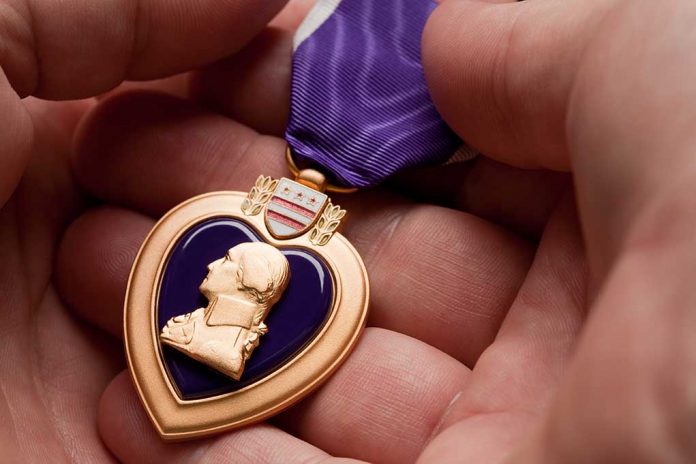 (BrightPress.org) – On Thursday, August 26, 13 service members lost their lives at the Kabul International Airport. Among them was 22-year-old Navy Hospital Corpsman Maxton W. Soviak. On Tuesday, September 7, the Navy announced a posthumous promotion of the young sailor to Third Class Petty Officer (E-4). Additionally, the Navy awarded Petty Officer Soviak the Purple Heart and Fleet Marine Force Corpsman Warfare Badge.
Hospital Corpsman Maxton "Max" W. Soviak was given the rank of petty officer 3rd class and awarded the Purple Heart and Fleet Marine Force Corpsman warfare badge "as a result of his brave actions in support of fellow service members," the @USNavy said.https://t.co/yZ51AXm5yo

— Stars and Stripes (@starsandstripes) September 7, 2021
In a statement, the US Navy said Petty Officer Soviak offered his country the ultimate sacrifice and his actions before and on that day deserved the nation's recognition. An Ohio native, the young Hospital Corpsman joined the Navy on September 26, 2017. He was attached to the 1st Marine Regiment, 1st Marine Division, where he served beginning September of 2020.
The military awards the Purple Heart to service members wounded or killed as a result of enemy action. Fleet Marine Force Corpsman Warfare Badge is a prestigious honor signifying a rite of passage. Only sailors deployed with Marines can pursue the badge, which they earn through grueling hours of study to master the fundamentals of the Marine Corps, rigorous evaluations and the dedication they show throughout their Navy career.
On Wednesday, the US government returned Soviak's remains to his family in Ohio. The Petty Officer's family and friends asked for privacy as they grieved their loss.
Copyright 2021, BrightPress.org