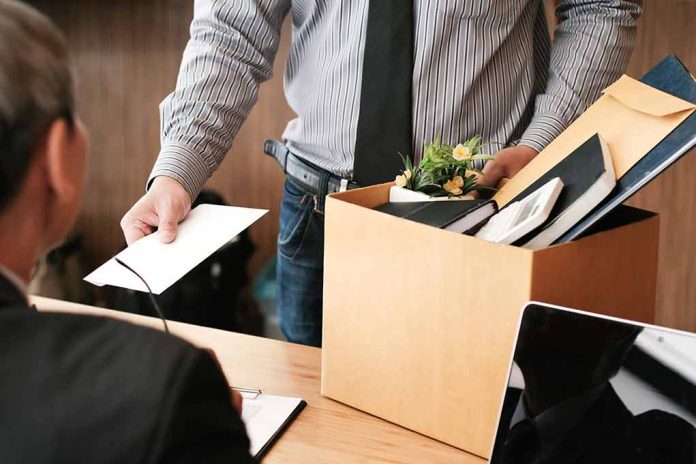 (BrightPress.org) – NBC host Chuck Todd who's served on the iconic series "Meet the Press" has announced his departure from the show which will take effect sometime in the coming months. Todd will be stepping back to spend time with his family after spending almost a decade on the show, telling viewers that he's seen too many close associates get consumed by their jobs and only realizing it once it was too late.
He suggested the "key to survival" when working for media mega-corps was leaving before overstaying one's welcome. He said he has plans in the works for new projects both with NBC and elsewhere. Explicitly he plans to help "coach colleagues" as the new 2024 election season is just getting started. He also told audiences that Kristen Welker will be replacing him on "Meet the Press," and you may recall Welker moderated a debate in 2020 between President Trump and then-candidate Joe Biden.
Todd's departure follows shake-ups across the corporate media sphere with many long-time familiar faces departing their shows or making major changes. Most recently Tucker Carlson was relieved from his 8 pm prime time slot on Tucker Carlson Tonight as a part of Fox News's settlement with Dominion Voting Systems. Crucially he was not fired and his contract remains intact until January 2024. Negotiations to allow him to continue to generate content outside of Fox's control are ongoing.
CNN host and long-time regular Don Lemon was recently terminated from the network over multiple allegations of being difficult to work with. He recently made controversial comments about GOP presidential candidate Nikki Haley being "past her prime" which apparently warranted an on-air apology.
Last year CNN ended its 30-year media analysis programming and terminated host Brian Stelter's position at the company in the process. "Reliable Sources with Brian Stelter" was canned last year after he had spent 9 years at the company.
Is there something else going on with all these shake-ups or is it just part of a changing media economy where corporate conglomerates are losing market share to independent media and podcasting?
Copyright 2023, BrightPress.org