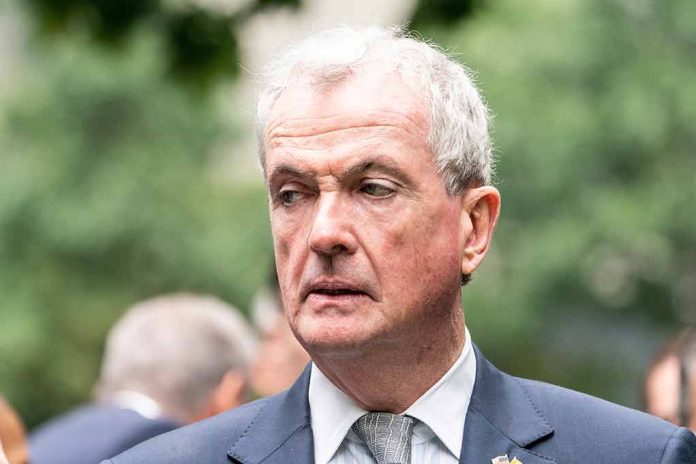 (BrightPress.org) – New Jersey Gov. Phil Murphy was humiliated after a chorus of condemnation erupted from the crowd after he was invited on stage during a concert event at a local brewery. The performance by Brian Kirk & The Jirks at Red Rock Brewery in Monmouth County was only two miles from the governor's mansion on the waterfront, making the jaunt on stage very convenient for Murphy to show up.
The governor's popularity has been steadily declining in recent months, according to a Rutgers-Eagleton poll from May. Less than half of the thousand New Jerseyians who responded said the state was headed in the right direction, which was down six points from a previous poll in the Fall of 2022.
After Kirk invited Murphy on stage for a quick hug, the crowd began booing loudly, sharing their condemnation. Kirk was quick to chastise the crowd for daring to express their discontent, extending a pointed finger and uttering, "Hey, hey, hey, what did I tell you…" before reminding the audience that he had a personal relationship with the unpopular politician whom he considers a friend.
Murphy may be unpopular with patrons of the brewery as well as its staff and owners after his administration imposed questionable restrictions on breweries and venues across the state for how many on-site events they could host per year, as well as artificial limits on food distribution. Many of those reforms are potentially being canceled, but the legislation which was approved still awaits the governor's signature. A little public pressure could go a long way toward relieving the industry of the regulatory pressures encouraged by the state. Murphy has yet to signal whether or not he intends to sign the bill.
The Red Rock features a sign expressing their apologies for a staffing shortage contributing to longer than normal wait times. Murphy's administration was also criticized last week for granting extraordinary tax breaks to a wind farm project recently approved to begin construction off the New Jersey coast.
Copyright 2023, BrightPress.org