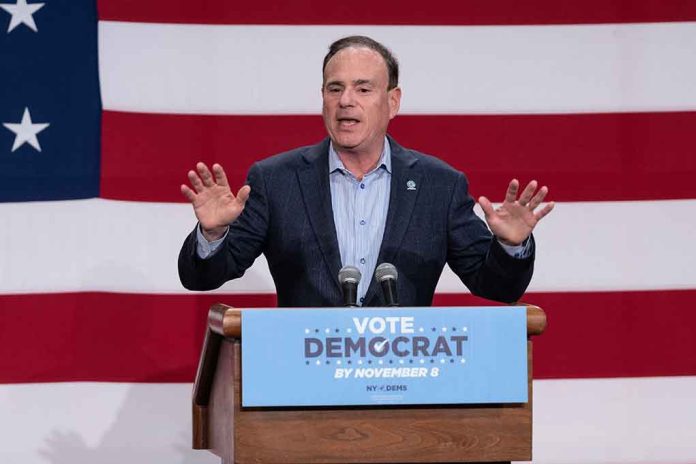 (BrightPress.org) – New York Democrats are ticked off at their leadership, saying the party "vies with North Korea" in terms of how democratic they are. Despite losing many right-leaning individuals due to migration associated with the economics of lockdowns and pandemic mandates, NY state flipped four of their House seats flipped to Republicans, much to the ire of the far leftists in the state. 
Brooklyn Progressive Action Network co-chair George Albro wants new leadership for the state's Democratic caucus. He's also the one who compared the state's party machinery to North Korea. His network was originally formed to support the candidacy of Senator Bernie Sanders for President in 2016 and has grown substantially in the intervening years. 
NY Dems garnered over 1,000 signatures for a letter demanding the state's Chairman, Jay Jacobs, be replaced. Jacobs is a moderate with ties to former Governor Andrew Cuomo who opposes far-left organizations like the Democratic Socialists of America, but many more moderates have questioned his leadership after the midterms. The letter laments the loss of 4 congressional seats, blaming failures of leadership to "commit the time, energy, and resources" required. 
The letter also blamed him for the loss of three State Senate seats in his home county of Nassau; he's Chairman of his county's organization as well. Jacobs hasn't responded directly to the letter, but last year he told City & State that California also lost seats, suggesting that the ultra-progressive agenda was the problem, not party leadership. 
He vocally opposed the DSA agenda, saying he "knows what they stand for" and he "totally disagree[s]" on many of their platformed issues. That said he holds no personal grudge or "animus" against the leftists within his own party, and he believes they have the right to represent their views as best they can. His main complaint was the intra-party hostility when there was real work to be done. 
Backing up his argument, Jacobs points to a detailed 10-page report that laid out the key factors in the Democrat's defeat. A major one in New York was crime. Albro pointed out that crime was on the rise in the entire country, not just in New York state. Governor Kathy Hochul defended Jacobs, saying he did "a great job as chair" and that they have no intention of replacing him. 
Copyright 2023, BrightPress.org