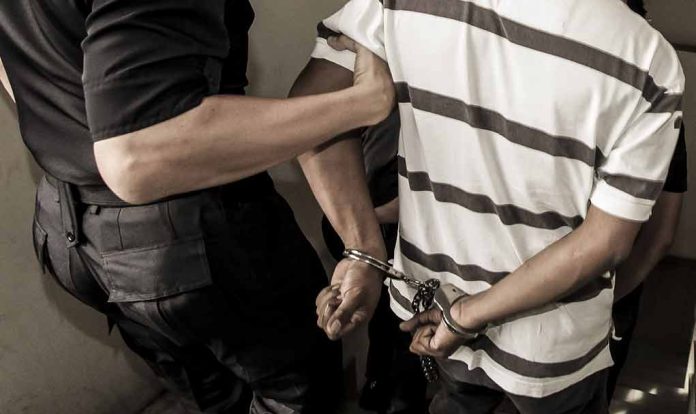 (BrightPress.org) – A New York homeowner with no history of criminal behavior was arrested and charged with first-degree manslaughter for the stabbing death of a thief who was attempting to escape after trying to steal the man's rims and tires off his new truck.
Jacob Alvarenga Mejia, 28, of Long Island confronted three men who were trying to steal the wheels off his brand new 2023 Toyota Highlander at 1:30 am on May 13th. Mejia went outside with a large kitchen knife to confront the thieves, as he had recently been the victim of catalytic converter theft just two months before this incident.
Police explained that the recent theft led to Mejia being possessed by rage and chasing down the would-be thieves as they fled. They were able to reach their vehicle and drive away, however, Mejia stabbed Luis Pena, 22, multiple times in the back as he was entering the vehicle. Pena later died of his injuries. The thieves allegedly shot at Mejia during their escape.
Mejia's lawyer noted that Mejia has no history of criminal behavior, one wonders if the same can be said of Pena and his co-conspirators. Police have indicated they're aware of all the suspects involved and charges against them are likely coming soon. Mejia was arrested on Friday, May 26th, and is awaiting trial in jail on a $1 million bond. Does it seem odd that the victim was arrested before the folks that tried to steal from and shoot him?
New York has had a rash of criminals being killed by their would-be victims, and state and local prosecutors seem all too willing to charge them with crimes for defending themselves and their property.
Jose Alba had charges against him dropped after a public outcry for killing a man that attacked him inside his store resulted in his arrest. Another deli clerk was accused of wrong-doing for shooting a man who threatened him with a knife inside his store in East New York. DA Alvin Bragg's office still charged him with "illegal possession of a firearm."
Copyright 2023, BrightPress.org