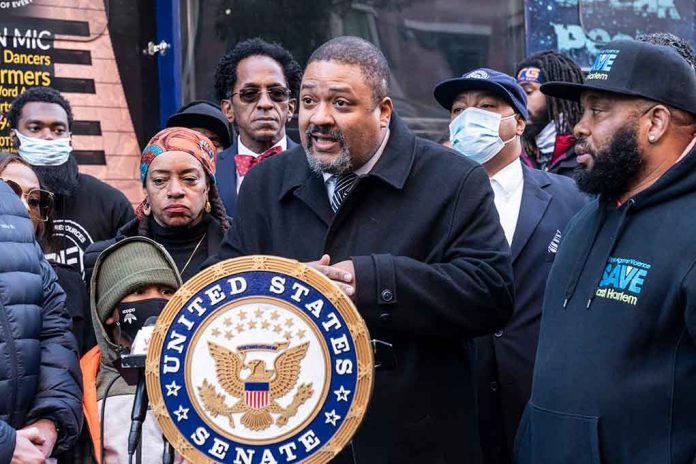 (BrightPress.org) – Manhattan District Attorney Alvin Bragg has put out a statement after House Republicans suggested Bragg testify before Congress regarding his decision to potentially indict former President Trump. Calling the requests intimidation, the statement implies that any critique of their legal escapades against Trump "undermine the justice process."
The statement made lofty claims to "uncover the truth" while self-complementing their team of "skilled, honest, and dedicated lawyers."
House Judiciary Chairman Rep. Jim Jordan (R-OH) sent a letter to the DA's office asking for documents pertaining to his Trump investigation and that he testify before Congress on the matter. Bragg and other activists in office were not amused.
Bragg is another George-Soros-funded-soft-on-crime DA who really doesn't like NY state attorneys putting criminals in jail. Alvin Bragg reportedly took $1 million in campaign contributions from the European billionaire who behaves much like a James Bond villain, engineering chaos around the world for his own benefit.
Soros has been partially responsible for rising crime across the U.S. as he funds left-leaning DAs who refuse to enforce the law. Why lobby politicians or draft legislation when you can simply put people in office who won't prosecute crime?
Bragg has no problem prosecuting 'crime' when it comes to the behavior of unfriendly political actors like Donald Trump, however. Violent offenders with the correct skin tone are often freed without a second thought, but non-violent political actors like protesters and politicians had better watch out while Bragg is on duty.
Republican Gov. Ron DeSantis ripped into Bragg on Monday as well, calling him a "Soros-funded prosecutor" in his first public comments on the subject. DeSantis is expected to be Trump's main rival for the 2024 Republican presidential nomination, despite no official announcement.
DeSantis highlighted the fact that Soros' lackeys weaponize their responsibilities as prosecutors to enact a political agenda, often at the expense of the districts in which they reside. He also pointed out that the trend of rising crime in NYC is partially due to radical prosecutors like Alvin Bragg.
Copyright 2023, BrightPress.org