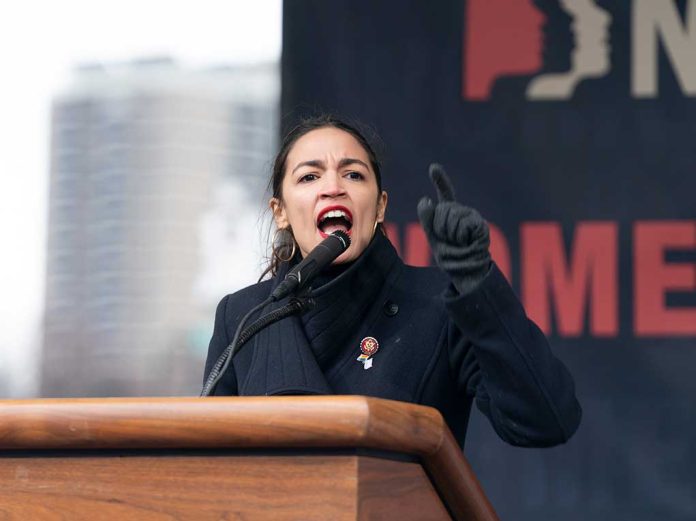 (BrightPress.org) – New York City Mayor Eric Adams and congressional starlet Rep. Alexandria Ocasio-Cortez (D-NY) traded perspectives on the death of Jordan Neely, a mentally ill homeless man who died Wednesday after passengers had to restrain him for erratic, threatening behavior on the F train. 
AOC expressed emotional outrage at his passing, calling his death a "public murder" while Adams took a more measured stance and suggested we wait for the investigation to complete before drawing conclusions. 
Neely, 30, was having a mental health episode on the F train when he became aggressive and erratic. While threatening to hurt people and announcing he had no problem going back to jail, it was unclear what specifically led to the physical altercation between himself and a 24-year-old marine who happened to be in the same car. 
After it became physical, the marine restrained Neely with help from other passengers until the police could arrive. Within 15 minutes or so, they had got there and Neely was unconscious. EMTs took over his care and transported him to a hospital where he died shortly thereafter. The New York Medical Examiner's Office has declared his death a homicide, stating his death was the result of pressure to the neck. He did not specify the results of any toxicology screenings or if Neely was intoxicated at the time of his death.  
"Jordan Neely was murdered," AOC tweeted. She then blamed his death on his homelessness and mental health while completely ignoring his erratic aggressive behavior, and lamented the lack of an arrest and charges in the case. Adams made a more measured statement commenting on the tragedy of loss, and that investigations are ongoing so making hyperbolic commentary is premature. 
AOC quoted the Mayor's statement, and called it a "new low" saying he refused to "condemn a public murder" and insisting it was because Neely's social status was "too low." Is she revealing a bit about what she thinks, herself? 
Adams appeared on CNN Primetime and was asked about AOC's comments, he replied calling them irresponsible as the investigation is in process. He also added that interfering in that process with hyperbolic rhetoric "is not the right thing to do." He added that he plans to let the parties responsible do their jobs to determine what really happened. 
Copyright 2023, BrightPress.org