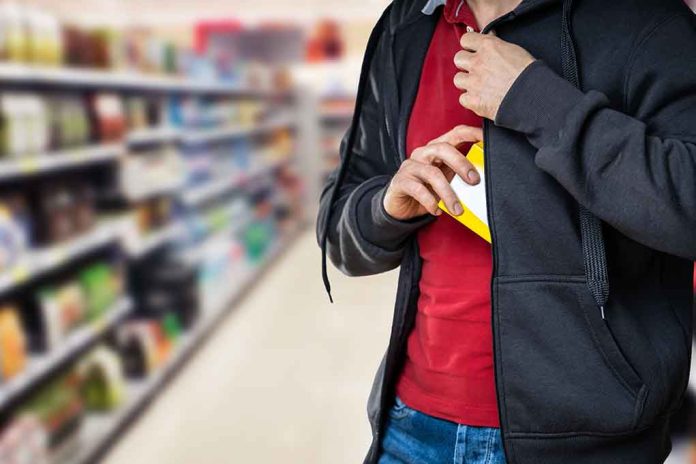 (BrightPress.org) – New York City Mayor Eric Adams wants to see your face again. The mayor has recently urged city businesses to take down their signs requiring masks upon entry, as they have been facilitating criminal activity.
In a radio interview with 1010 WINS, Adams said they were "putting out a clear call" to all businesses and shops in NYC to require customers to show their faces when they enter. Curiously, Adams said folks could re-mask after they de-mask upon entry, just to make sure a face is witnessed by either the clerk or security cameras.
After a jewelry store was robbed, police suggested this change in policy in order to facilitate the identification of suspects. One of the culprits was masked as he beat the 78-year-old clerk bloody. During the press conference, the police expressed difficulty in identifying suspects when they wear masks, hoodies, and latex gloves, all of which became much more socially acceptable during the lockdowns.
Police suggested politely displaying one's face to store workers as a sign of good intentions. Perhaps it's time we ditch outdoor or short-term masking for good.
With crime on the rise, the police need all the help they can if they're expected to catch the bad guys. A 67-year-old bodega worker was murdered in a robbery that they linked to other robberies in the area, and in every case, the offenders were wearing masks.
New York City has been suffering a 47.5% increase in crime since 2019, a statistic that is even higher in other cities. While authorities were quick to clamor about a 0.4% decrease in 2023 compared to 2022, the city is still well above its recent historic lows for violent crimes.
What could have happened in 2019 that spiked crime numbers? New York State passed its now-infamous bail reform package which went into effect on January 1st, 2020. The package resulted in cashless bail, the early release of over 2000 criminals from prison, and a dramatic spike in criminal activity in the Big Apple. City officials will try to use the 2020 numbers as a baseline, but in reality, they're just attempting to define a new normal which ignores the progress of decades past.
Copyright 2023, BrightPress.org