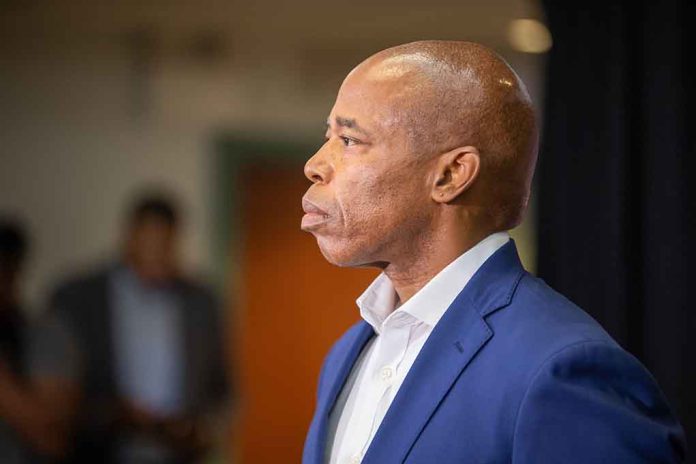 (BrightPress.org) — NYC Mayor Eric Adams said there's "no more room at the inn" on January 3rd in response to hearing Colorado plans to send migrants to New York City and Chicago. Calling the crisis a "national embarrassment" he also renewed his demand for a billion dollars from President Biden on WABC radio's "Sid and Friends in the Morning."
Claiming the city has taken in "over 30,000 asylum seekers that are in need of not only shelter, but food, education for children, health care…" he lamented Colorado's plan to ship migrants elsewhere. Calling it "unfair for local governments to have to take on this national obligation" he emphasized NYC has "done our job," adding "there's no more room at the inn."
He might be speaking literally. As of August 2022, the New York Daily News was reporting thousands of hotel rooms were being rented by the city to house migrants. The city spent millions building a temporary housing camp, only to move it, and then shut it down, ultimately deciding to pay for temporary housing instead.
No one seems to know when the new influx will arrive, as Colorado Gov. Jard Polis' office did not have the information available. Colorado will join Texas and Florida in shipping migrants northward. Will the Democratic Governor face the same criticisms as Greg Abbott and Ron DeSantis?
Abbott has consistently and emphatically laid the blame for the border crisis at the feet of the federal government and specifically President Joe Biden. The flood of migrants over the border has only increased with the looming expiration of Title 42, a pandemic-era policy that made it easier for border officials to "catch and release" or turn back migrants at the border. While the Supreme Court issued a temporary injunction to prevent its immediate expiration, lasting reform is required at the federal level, according to Abbott.
Copyright 2023, BrightPress.org