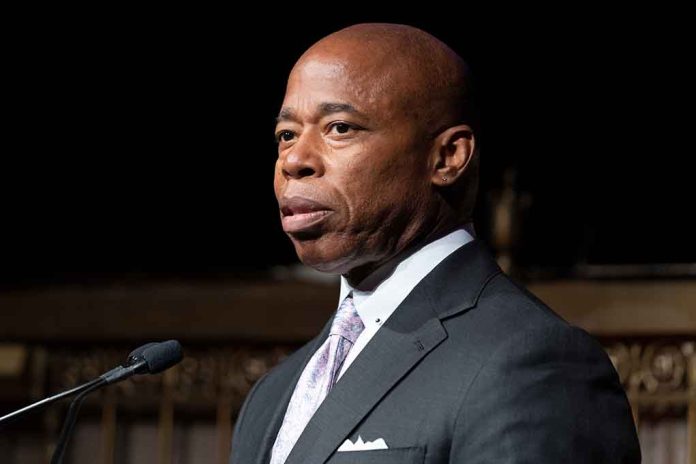 (StraightNews.org) — NYC Mayor Eric Adams caught some flak from the corporate press after he returned from his Christmas vacation in the Virgin Islands on Christmas Eve. When asked about it, he shot back at reporters. Reminding them that he has worked "365 days" without a day off. Continuing, "he was amazed" to see how the press responded and reminded the gathering that he lost his mother last year and was still grieving.
Calling their complaints about his absence "alarming" the mayor lambasted questioners, implying that he deserved a fair work/life balance, questioning if they themselves had taken vacations, and rhetorically asking if their parents were still alive.
"If I take time off to get my mental capacity together so I could take this city through the crisis, I deserve those two days," the mayor said during a press conference.
The mayor seemed perturbed and irate when asked why he wouldn't put out a public notice when he was planning to be absent, responding that the city charter doesn't require it and he won't do it.
His absence attracted enough attention that a non-profit put together "Missing Mayor" posters which began to circulate on Twitter. Featuring a picture of the mayor the flyer reads, "Have you seen this man?" Giving readers a few of his stats like age, weight, and height. "Last seen: Thursday, December 22nd leaving his city in the middle of a natural disaster."
This latest fiasco over a vacationing public official echoes an early story about the resignation of Frank Carone, the mayor's chief of staff in September of 2022 after questions arose about a French cruise he took being taxpayer funded. In that case, the mayor refused to answer questions about the trip.
Carone also traveled to Sweden, Israel, and South Korea while claiming that the travel was essential to "discuss policy issues and find business opportunities for the city," according to the New York Times.
Copyright 2022, StraightNews.org