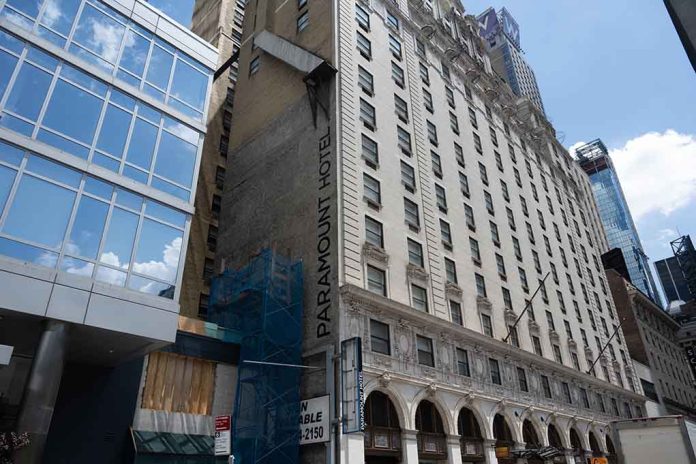 (BrightPress.org) — A fifth Manhattan hotel will be made available at taxpayer expense for 'economic migrants' or illegal border crossers depending on your preferred lexicon. The Paramount Hotel, a 600-room "indulgent experience" (per their website) in the center of Midtown will be opened to the hordes of male migrants being shipped up from the southern border.
Earlier in January, tourists were paying $330/night to stay there, and over New Year's Eve, the prices skyrocket to around $1,000/night. Meanwhile, the NYC homeless population, Americans who were having tough times, aren't being offered the equivalent treatment.
The Paramount is just across the street from the Richard Rogers Theatre, where the famous musical "Hamilton" has been showing since opening in 2015. Perhaps the migrants would enjoy a bit of our local Broadway culture? Is NYC giving them free Broadway tickets, too?
They have been giving them free food, housing, and possibly cash grants – the men have been seen in new clothing, riding bicycles and mopeds while chatting on cell phones – who's paying for all this?
With Paramount becoming the fifth hotel to house illegals, one might wonder how the other hotels have been fairing. Are the migrants settling in? It seems they are enjoying themselves if this piece from Fox News is to be believed.
Drugs, fighting, and romantic activity that isn't that romantic are just a few of the wonderful experiences our cultural attachés from south of the border have been sharing with native New Yorkers. A whistleblower from the mayor's office also informed Fox News that they were wasting thousands of dollars of tax-payer-funded and donated food every day. Why?
Mayor Adams has not received any federal aid in dealing with the crisis. He's repeatedly asking Washington D.C. for more money, saying the city could spend up to $2 billion just dealing with the border hoppers and that it could bankrupt the city. In addition to housing, the city is providing three meals a day, baby formula, clothing, legal aid, health care, and education. Why wouldn't people come here?
Copyright 2023, BrightPress.org