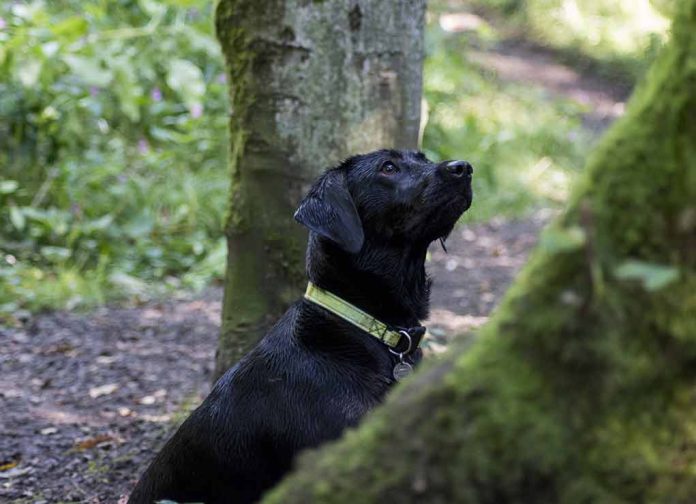 (BrightPress.org) – Michael Charles Burham, 34, was arrested on Saturday evening in Warren County, Pennsylvania after residents were alerted to a suspicious person camping in their yard by their dog. Cindy and Ron Ecklund are credited with the find and recognized the man from the news after he escaped from a prison near where they lived. His capture ended a weeklong hunt for the escaped convict.
Ecklund told NBC News that he asked the guy what he was doing and Burham replied that he was camping. On the return trip to his home with his wife and dog, Ecklund asked her to call 9-1-1 and report the man as he had recognized him as the escaped convict from news reports.
The reward for Burham's capture was raised to $22,000 as the week went on. The couple may be eligible for the reward given their contribution to his capture.
Burham had escaped from the Warren County jail by climbing through gaps in the roof grates and then using a rope fashioned from combining bedsheets so he could climb down from the roof. He was on the run for eight days before he was detected. Authorities had previously described him as a survivalist with outdoor skills who was capable and comfortable living outdoors.
He stands accused of a laundry list of charges. He allegedly kidnapped a couple while on the run from authorities investigating a murder in New York state. He's a murder suspect for the May 11th killing of Kala Hodgkin. He has not been charged officially in that case yet.
According to a federal complaint, Burham raped Kala Hodgkin at the time of her death. She was shot once in the chest. While police were on the way to interview Burham, they received another call where he was accused of breaking into another ex-girlfriend's home and lighting her car on fire. Burham had gone on the run after that and was arrested on May 24th. During that escapade he kidnapped a couple at gunpoint, ultimately releasing them unharmed in a cemetery in South Carolina.
Copyright 2023, BrightPress.org