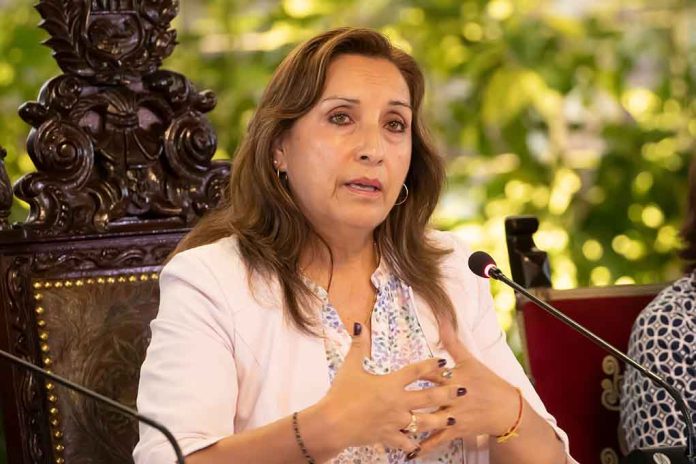 (BrightPress.org) — Rowdy and violent protesters flooded the Peruvian capital of Lima on Thursday, January 19th, as protesters were angry about the removal of Peru's first rural Andean leader last month. The former President, Pedro Castillo is being held by the government for rebellion after he was impeached for attempting to disband Congress.
The clash between Peru's largely rural population and its wealthier urban establishment is taking place in the capital as well as in poor rural areas around the country. The focus of the protesters was current President Dina Boluarte, with many calling for her resignation and immediate elections. Fifty people have been killed in the clashes so far, which have been going on for weeks.
Protesters went back and forth with police, exchanging tear gas and rocks as each side battled the other. Downtown roads were temporarily converted into pedestrian walkways as they were flooded with people. Many local residents and students joined their countrymen to express their discontent. A very small pro-government counter-protest was protected by a police line in Miraflores park downtown.
Scuffles and minor protests erupted elsewhere around the country, including at an airport in Peru's second city, Arequipa. One person was killed during their attempt to storm the airport. Two additional airports had problems with protesters, though Boluarte called that "a mere coincidence."
Dozens of injuries were reported by Peru's ombudsman, including police and civilians. Protesters blame Boluarate for the violence and her government blames the malcontents. One protester carrying a bible in downtown Lima said, "Our God says thou shalt not kill your neighbor. Dina Boluarte is killing, she's making brothers fight…"
Boluarte remains unphased by the protests, giving a televised speech Thursday night she gave thanks to police and authorities for dealing with the "violent protests" and promised lawbreakers would be prosecuted. She also said that she plans to hold elections in 2024, two years ahead of schedule in what might be seen as an attempt to compromise. She further questioned their motives and who was responsible for financing them.
Copyright 2023, BrightPress.org