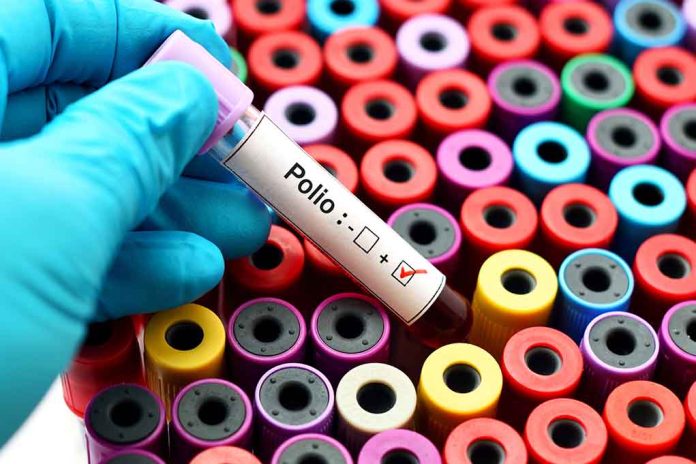 Polio Makes a Comeback – Here's What Parents NEED To Know
(BrightPress.org) – In 1955, health providers began administering vaccinations against the highly contagious disease known as polio. In the early 1950s, doctors diagnosed approximately 15,000 people with it per year. In the 1960s, this number dropped to under 100. By the 1970s, it was less than 10. For decades, polio was all but eliminated in the United States. Now, suddenly, it's reappearing.
In June, the virus showed up in Rockland County, New York. Officials have also detected polio in wastewater samples in Orange, Sullivan, and Nassau Counties, and New York City. So, what should parents do to protect their children from the illness?
BREAKING: Gov. Kathy Hochul (D-NY) issued an executive order declaring a State Disaster Emergency over polio in New York state, per @HealthNYGov statement.

— Madison Muller (@g0ingmad) September 9, 2022
The Centers for Disease Control (CDC) recommends that all children get vaccinated to prevent transmission. While states require kids to receive vaccinations before attending school or daycare, some provide religious exemptions, and unvaccinated children could become susceptible. Still, most born after 1955 were likely vaccinated unless they invoked their religious beliefs as a reason not to receive immunization.
Polio is very different from COVID-19. The latter spreads through the air. Polio enters the body through the mouth. It could be travel on hands, in water or food, or by other means. The disease infects the throat and gastrointestinal tract, moves into the bloodstream, and attacks the nervous system. The CDC stated in some instances, it could affect the spinal cord, causing paralysis (like it did to President Franklin Roosevelt), or threatening one's life.
For more information, contact your local health department.
Copyright 2022, BrightPress.org