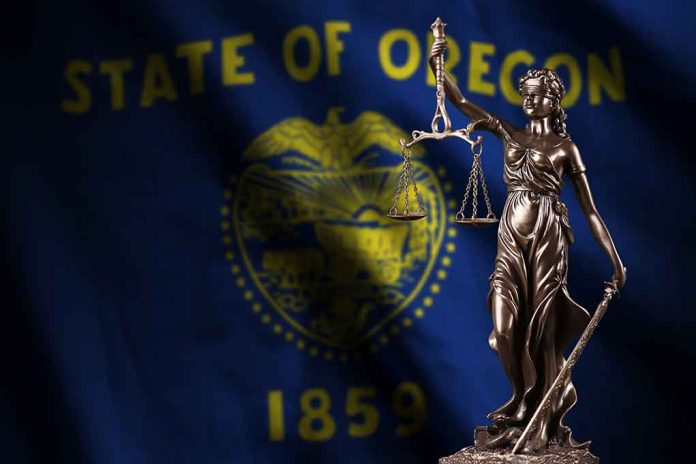 (BrightPress.org) – Portland, Oregon, is in the news again as the latest development in the city's unraveling saw a man who stole a forklift running a rampage through the city, chasing pedestrians and harassing drivers. 
They flagged him down after he drove the wrong way down a one-way street and arrested him during the interaction. 
A tweet from the Portland Police Bureau showed images of the small one-man forklift and said he was driving erratically and chasing pedestrians. Police identified the man as Joffre Zalinski, and charged him with unauthorized use of a vehicle and first-degree theft.
He reportedly drove the machine 15 blocks while laughing "maniacally" while yelling "I literally stole this," according to The Oregonian. Another man, Jeffrey Allen Brooks, was arrested back in February for theft of a forklift and taking it on a joyride around Portland.  
Portland's crime problem is no secret, as they staunchly refuse to punish criminals in many cases. A stolen SUV collided with another car on the 405 on the evening of March 28th. Saturday afternoon saw a shooting in broad daylight result in a triple homicide; no arrests yet in that case. 
Local resident Sam Sachs suggested that gun violence and murder are being normalized in his city, and he finds that incredibly disturbing. He asked his city, state, and county leaders to take action and address the problem in an interview with KOIN 6 News. That triple homicide followed five separate shootings within a 4-day period in various areas of the city. With only 29 detectives responsible for all the homicides, arson, missing person, and kidnappings, the city is strapped when it comes to bandwidth for its crime problem. 
In a tweet on Saturday, Mayor Ted Wheeler offered the typical hollow words of a politician. He's been "updated" and "deployed additional police" and wants to "provide further assistance." He has not, however, called for additional funding or hiring of police officers and professional investigators to help stem the tide of chaos and crime. 
Copyright 2023, BrightPress.org