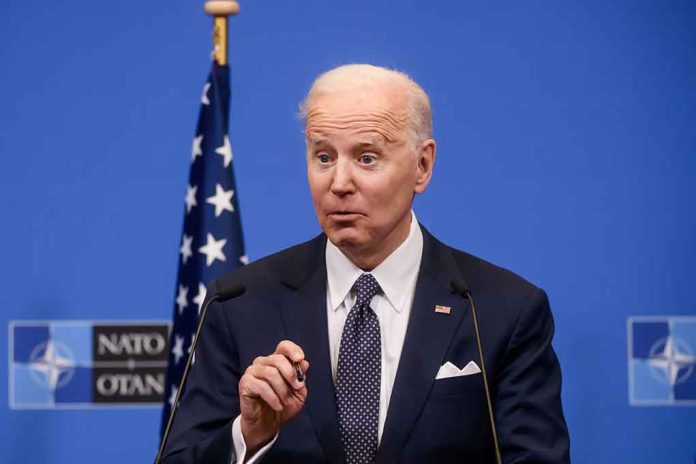 (BrightPress.org) – President Biden was skewered online after he proclaimed that "MAGA Republicans" want to defund the police in a speech he gave on March 9th in Philadelphia. He was attempting to contrast his positions with those of Republicans and had made the reasonable suggestion that both sides could compromise on a budget proposal. Then he dropped the wild claim that not just Republicans, but specifically MAGA Republicans, want to "defund the police department."
The internet immediately had words. House candidate and author Josh Barnett proclaimed "all he does is lie," and continued to state the fact that no MAGA Republican has ever suggested anything of the sort. He pointed out that there have been conservative calls to defund the FBI until they cease violating the constitutional rights of American conservatives.
Washington Examiner contributor Ian Haworth suggested that the President was so ignorant and delusional that he either actually believed what he was saying or was engaged in active deception.
Defense attorney David Wohl suggested Biden is "basically a zombie" and "belongs in a rest home."
Attorney Joseph McBride suggested Biden and Senator John Fetterman would make an excellent pair for the 2024 Presidential race.
Journalist Ryan Ledendecker suggested the President was struggling with dementia.
Veteran James Bradley called the routine "bad standup. All you can do is laugh."
Journalist Kyle Becker suggested Biden's fib confirmed that he was, in fact, a pathological liar.
Columnist Liz Peek asked if we've ever had "a more dishonest president than Joe Biden?"
Computer programmer Brad Perniciaro suggested we do it in cities. Give the democrats what they want, he tweeted.
Even X-Games athlete Paul Thacker pointed out "Man this dude is so bad at this…"
This isn't the first time Biden has been lambasted in the media for lying. Shortly before the midterm elections, the New York Times ran two pieces calling out Biden's fibs, and the Washington Post awarded the President a "bottomless Pinocchio" award for the ridiculous claim he traveled 17,000 miles with Chinese President Xi Jinping.
Copyright 2023, BrightPress.org