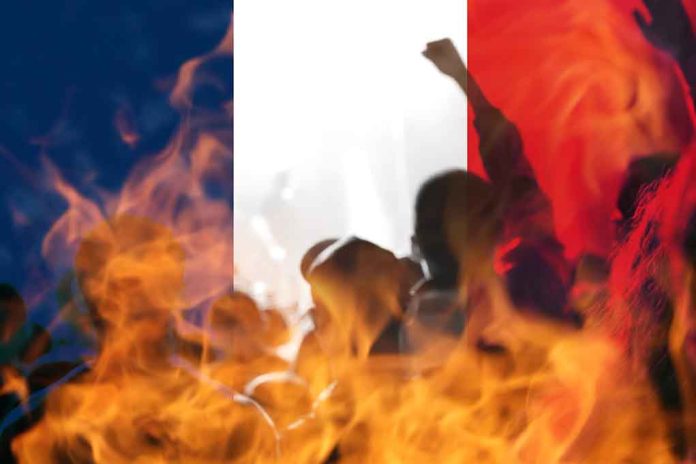 (BrightPress.org) – A no-confidence vote in France almost toppled the government led by Emmanuel Macron Monday, March 20th. The government had passed a controversial pension overhaul without having parliament vote on it which ignited mass protests across the country.
The vote was incredibly narrow: 278 MPs voted no-confidence, only 9 votes short of passing the measure. The vote was much tighter than anticipated by pundits and political analysts and will add pressure on the Macron government to withdraw their pension overall while invigorating the popular uprisings and protests.
MP Charles de Couson was one of the representatives who advanced the vote of no-confidence, and he lamented the lack of Macron's "courage" in failing to submit his proposed changes to a vote in Parliament. He outright said that had the measure been submitted to a vote it would have likely failed, "but that's the game when you are in a democracy."
Macron's mouthpiece, MP Aurore Bergé accused his opponents of working against "the good of the country" and complained about the protests, a nebulous and ineffective critique of real democratic politics in action.
The policy change would raise the retirement age in France from 62 to 64 in an attempt to normalize the retirement age in France with that of its neighboring European countries. It would also help balance the growing debt from the country's state pension system.
The vote in the National Assembly and subsequent protests disrupted transportation, air travel, and other industries as well as commercial businesses. Many leaders and trade unionists who stand against the changes have called for protests but also warned the government of the potential for such things to get out of control.
Trade union leader Laurent Berger suggested Macron withdraw the changes as "the temptation of violence, of radicalization… is there."
The no-confidence vote was supported by both major political parties, indicating Macron's own party is divided over how the situation was handled.
Copyright 2023, BrightPress.org