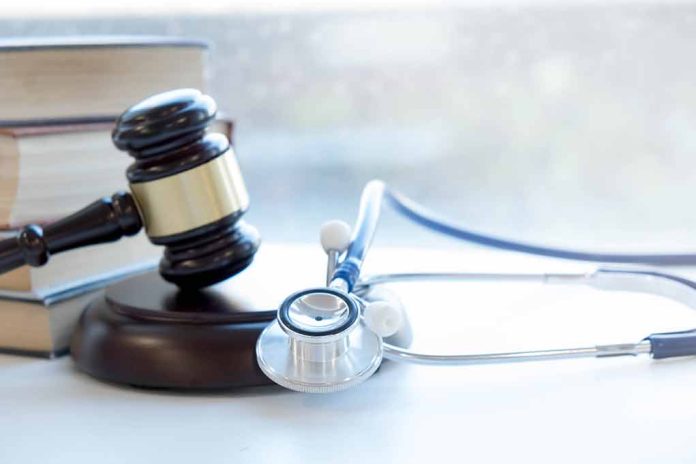 (BrightPress.org) – Former New York Presbyterian Queens Doctor Zhi Alan Cheng was charged with an 11-count indictment for the drugging and rape of a female acquaintance in December 2022. Prosecutors indicated that a formal search of his home revealed shocking evidence that led to a new 50-count indictment, as investigators found video evidence he drugged and sexually assaulted multiple additional women, one at the hospital where he worked.
The search was executed by Queens District Attorney's Special Victims Bureau members and revealed hard drives containing footage of Cheng assaulting multiple additional victims. They also found a plethora of narcotics, many of which were used to sedate his victims. Propofol and sevoflurane are typically only found in hospitals or settings where sedation is a regular occurrence.
Cheng also had cocaine, LSD, MDMA, fentanyl, and ketamine, all of which are capable of sedating or otherwise incapacitating a victim.
Queens District Attorney Melinda Katz called Cheng a serial "predator of the absolute worst kind." She said his willingness to violate his professional responsibilities and basic human decency indicate made him a severe threat to his patients and acquaintances.
Cheng entered a guilty plea on Monday, August 6th. His lawyers refused to comment as they said they had not had the opportunity to review the evidence with their client.
Prosecutors said the victims range in age from 19 to 47, and several of the women had no idea they'd been assaulted or abused while unconscious.
One of his victims has sued New York-Presbyterian claiming the organization had concealed evidence of the assaults and conspired to keep things quiet. Investigations into the matter will continue by police and prosecutors.
New York-Presbyterian representative Angela Smith Karafazli said that her organization fully complies with all investigators and has "stringent patient safety policies." She also added that they were engaged in an "exhaustive review" of the details in Cheng's case and will be adding new training for staff as a result.
He's not the first doctor with New York-Presbyterian to be involved in predatory activity, former gynecologist Dr. Robert Hadden was convicted and given 20 years in prison for assaulting women during their appointments.
Copyright 2023, BrightPress.org