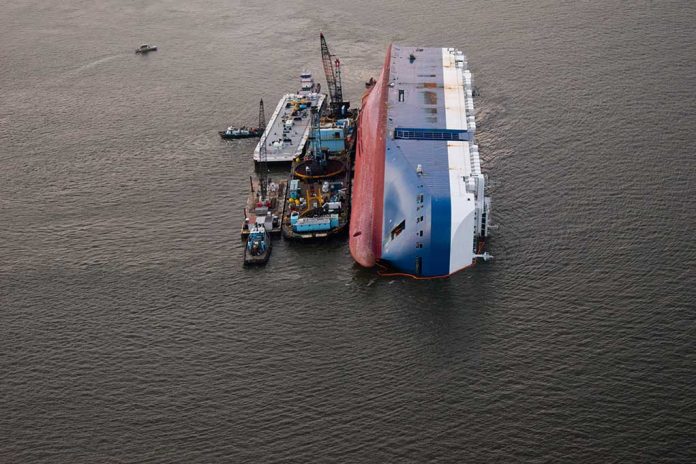 (BrightPress.org) – Fortunately, modern-day shipwrecks don't happen often. When they do, devastation can occur, especially when they involve massive cargo ships full of oil and other contaminants. On September 8, 2019, the South Korean freighter Golden Ray overturned off the coast of Georgia.
In December 2020, the fascinating process of removing the ship from the sea began. It's a long and tedious task. It's also dangerous to the environment and wildlife. Before demolition began, workers drained over 320,000 gallons of oil from the wreckage site. Unfortunately, it's impossible to remove all of the oil from the ship.
Oil Leaks Threaten Beaches and Wildlife
To remove the capsized ship from the sea, workers must first cut the ship into removable sections and transport them via barges. That requires welders cutting the ship into smaller pieces.
In May, a cutting torch came in contact with residual oil. The result was a fire that temporarily stopped work as fire engulfed the wreck. Another leak occurred in July, but workers contained it quickly.
Unfortunately, on Monday, August 2, another oil gusher occurred, this time with horrible effects. Tons of petroleum flowed into the ocean after a towering crane began lifting a 4-ton segment of the ship. Unbeknownst to the workers, a large amount of oil was sitting in that section of the massive structure, waiting to escape. The US Coast Guard said workers believed oil settled in submerged sentiment. As a crane slowly lifted a segment off the ship, the petroleum made its way to the ocean through the holes drilled to drain water.
Added Devastation
After salvage teams tried a second time to lift the same section of the boat, it leaked again. This time, crews were ready for it and used an absorbent material to remove and contain the second spill.
Despite the containment, oil washed ashore onto the tourist beaches of St. Simons Island, approximately 70 miles south of Savannah, GA. The environmental disaster found its way 2.5 miles from the wreck site. Almost immediately, 70 workers began efforts to clean the area. There were so many contaminants on the beach that local authorities said 100-yard bags of oil were virtually nothing compared to what was still present. The oil polluted the sand, rocky shorelines and marsh grasses near a golf course.
Tourists said the water was slick. Georgia officials didn't close the beach, although they did warn tourists to stay away from oil in the water or on the beach.
More than a year and a half since the wreck, the ship's removal is drawing near. Work should be complete soon, with crews pulling the final segments from the sea. In the meantime, some people are urging Georgia environmental regulators to conduct a formal assessment to determine the full extent of the catastrophe.
Copyright 2021, BrightPress.org