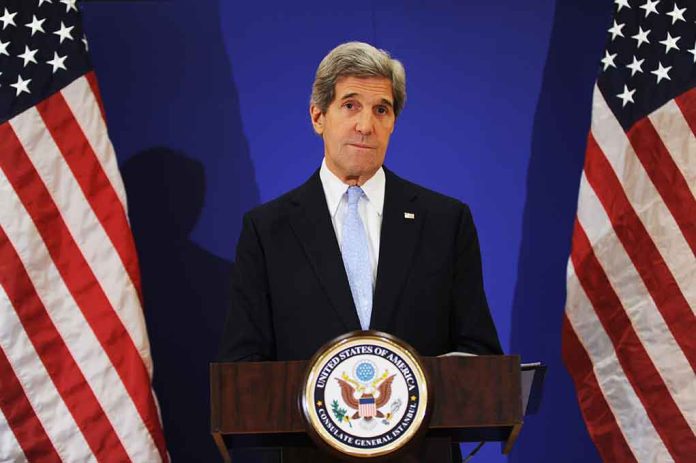 (BrightPress.org) – House Oversight Committee Chairman Rep. James Comer (R-KY) is demanding to know what duties Special Presidential Envoy for Climate John Kerry performs for the Biden administration. Republicans have been asking the question for years, and still, no one seems to understand the exact responsibilities of the "special" role Kerry was chosen for.
Comer has made three separate requests asking Secretary of State Antony Blinken for details regarding the special assignment, which have as yet gone unanswered. Comer is now threatening subpoena action if Blinken will not willingly respond to the request for more information. 
Blinken and Kerry have formed a longstanding working relationship over the years. Blinken worked under then Secretary of State John Kerry during the Obama administration as a deputy secretary of state. At the same time, John Kerry's stepson, Chris Heinz, was working with Hunter Biden on business deals in China. They eventually parted ways when Hunter took a seat on the board of Ukrainian energy company Burisma, for which many have panned him as being unqualified. 
Kerry and Joe Biden also worked together for decades in the Senate. Biden appointed Kerry to the Special Envoy position in 2020, which is technically a position in Biden's Cabinet at the White House. It also puts him on the National Security Council. Comer is concerned that Kerry is "skirt[ing] congressional authority" and possibly undermining foreign policy goals through his climate activism. Both of those could negatively impact the U.S. economy. 
In his letter, he further accused Envoy Kerry of failing to provide transparency and accountability to Congress, and thus the American people. As a result, Comer is asking for all the records for Kerry's office's budget from FY21, FY22 & FY23. He's also asking with whom Kerry was having discussions regarding those budget items. He wants the names, salaries, and any ethics and financial disclosures made by those people. He's looking for all documents or other communications between the Envoy's office and any third party, like advocacy groups or foreign governments. Lastly, he wants a record of all Kerry's travel relating to his duties. 
If the documents aren't forthcoming, Comer hinted at a "compulsory process," which would suggest a subpoena and testimony before the Oversight Committee. 
Copyright 2023, BrightPress.org