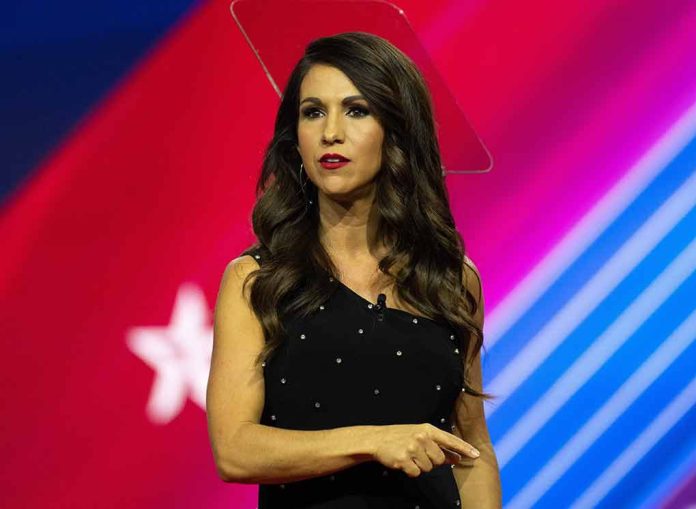 (BrightPress.org) – Controversial congresswoman Rep. Lauren Boebert (R-CO) was kicked out of a live performance of the musical "Beetlejuice" in her home state on Sunday evening, September 10th. There was some confusion over the nature of the complaints against her by her fellow patrons and theater staff.
Boebert was initially accused of vaping, singing loudly, and recording the performance. However, someone at the theater leaked surveillance footage that also showed the congresswoman and her date fondling one another in the dark. The footage also showed Boebert vaping, taking flash photos, and waving her arms while dancing in her seat.
The man she was with remains unidentified but it was not her husband. They are in the process of getting divorced. The Colorado Sun claims to have an incident report that discretely lists their reason for removal as a "disturbance."
A local NBC affiliate aired footage that showed Boebert and her male companion being walked out of the venue by staff. Boebert flips off the usher at one point, clearly angry about being asked to leave.
The report recounts Boebert asking the staff if they knew who she was, stating that she was "on the board" and that she planned to contact the mayor's office regarding the incident.
Denver police were contacted and stayed on the premises until they left, according to the report. Boebert's campaign manager Drew Sexton told the Washington Post that she was kicked out of the show, but disputed the claims of her inappropriate behavior despite the footage.
He said that she supports the arts and "enthusiastically enjoyed" the show. He also pointed out that the Denver Post called the show, "outrageous," "zany," as well as a "lusty riot." He denied that she had been vaping, and claimed that fog machines and e-cigs were used during the performance citing some possible "misunderstanding."
Surveillance footage clearly showed her vaping. Boebert responded to the controversy on X (Twitter) saying that she "plead guilty" to having too much fun.
Copyright 2023, BrightPress.org