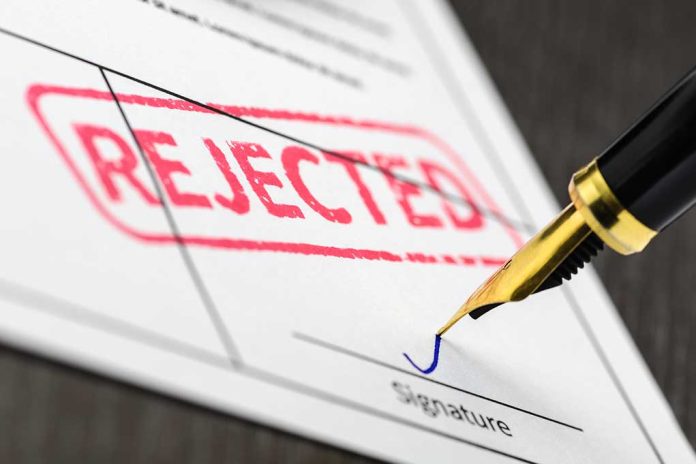 (BrightPress.org) – House Republicans are not happy with President Joe Biden's pick for the new Secretary of Labor, many are pointing out that her track record suggests she doesn't deserve a promotion. Chairman of the House Ways and Means Committee Jason Smith (R-MO) sent a letter to Biden on April 6th, signed by many other House Republicans, including Speaker Kevin McCarthy (R-CA) in which they explained the specific reasons they could not support Julie Su's nomination.
Citing "continual failure" as "deeply concerning" they pointed out that in her previous role at the Labor Workforce Development Agency (LWDA) in California, Su oversaw billions in fraudulent benefits being distributed, wasting taxpayer dollars. McCarthy added that the country required a leader who could contribute to "healing our economy" and improving the job market. 
Signatories didn't want Su to be a temporary fill-in either. The letter blasted her for failure to prevent fraud, as well as for promoting radical policy changes that make it more difficult for people to work as independent contractors in the state of California. Such mismanagement at the federal level would be disastrous for the nation. 
They also indicated that her performance as Acting Secretary of Labor will be heavily scrutinized and actively opposed during the Senate confirmation process. They cited a 2021 report from California's State Auditor which determined she specifically failed in her role as head of the LWDA to catch over $10 billion in fraudulent claims. It's like there was no oversight at all. 
The report further elaborated that $1 billion of that amount could have been saved if they had kept basic protections in place to verify applicants' identities, a policy shift she oversaw. Other institutions estimated the amount of fraud in California to be two or threefold higher, with LexisNexis Risk Solutions giving an estimate of $32.6 billion in total fraud thanks to their abrogation of basic protections. Were they trying to drive inflation? 
The letter also pointed out Su admitted as much after the 2021 audit. Clearly, this is someone who should have been fired, not promoted. 
Copyright 2023, BrightPress.org