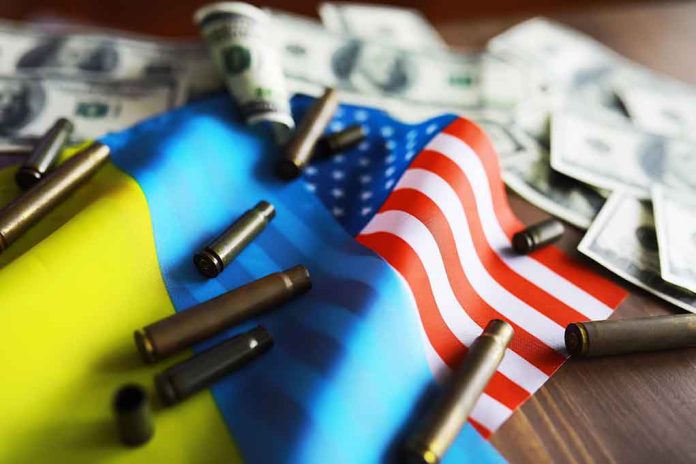 (BrightPress.org) – Republicans are divided on the issue of continuing further financial and military aid to Ukraine with proponents launching an all-out propaganda campaign to inculcate their perspective in the minds of the American public. Promising congressional testimony on Russian war crimes, regular classified briefings on the war, high-profile celebrity and television infotainment programming, the initiative sounds much more akin to a psychological operation run by the CIA than it does a reasonable political package.
One thing stands in their way, however: newly elected Freedom Caucus Republicans in the House of Representatives.
Ukrainian advocate Rep. Michael McCaul (R-TX) explained that he was "very much focused" on the dissent within his own party over the issue of ongoing unlimited support for Ukraine. He wants to have a hearing in Congress in the next few months focusing on the Russian atrocities committed against Ukrainian civilians, with no mention if Ukrainian war crimes will be discussed or not.
Rep. Gregory Meeks (D-NY) thinks Republicans "don't realize the interest" that the U.S. has in Ukraine. An interesting turn of phrase considering Ukraine is on Russia's border, not ours. Florida Republican Representative Matt Gaetz presented a resolution on "Ukraine Fatigue" calling for an end to our flood of military and financial donations to Ukraine. He pointed out our own economic difficulties and inability to continue to "hemorrhage taxpayer dollars" to fund someone else's war.
The current estimate is around $120 billion with the latest round of aid being approved in December 2022. That last wad of cash was supposed to be the final round until Sept 2023, but with some Republicans and all the Democrats willing to keep printing dollars for war, we might see another round of "emergency" funding rammed through Congress beforehand.
Chair of the Foreign Affairs Committee Representative Ralph Norman (R-SC) opposes further funding for Ukraine, saying that "we've met our goal" giving them billions. He also wants to see Ukrainian Prosecutor General Andriy Kostin testify before Congress about Ukrainian war crimes.
Copyright 2023, BrightPress.org