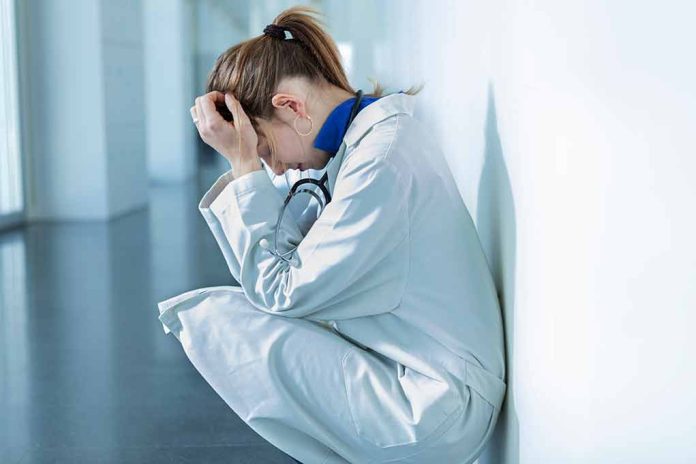 (BrightPress.org) – An American training to become a doctor has her experience of coming on a shift to learn that a 21-to-23-week infant was the victim of a botched abortion attempt, and her colleagues were "waiting for it to die." She wished to remain anonymous due to the inflammatory nature of the story.
In an exclusive letter to Live Action, she described how she walked in to discover the infant alone, crying in a bassinet, and that she was informed of the nature of the case and the child's impending death by other staff members.
The child's mother had come to their OB-GYN practice after suffering injuries from an abortion attempt. While receiving treatment, she went into labor, resulting in the very premature birth of a "beautiful baby girl." The resident relayed how the attending doctor criticized pro-life positions and spoke of how she was contributing to legislation to give better "abortion care."
The doctor opted not to administer basic life-saving care to the baby, and saw "it" as a palliative care case, according to the letter. Even without injuries from a botched procedure, babies born this early often do not survive without extensive care. There was no attempt to save the child's life. The doctor claimed that palliative care was the only legal requirement, so they were just waiting for the baby to pass away. When the resident picked up the baby to give it some comfort, she was chastised by colleagues.
She quickly realized that without respiratory support, the child was likely already experiencing organ failure. When her colleagues were called into the OR for a separate emergency, she took the opportunity to be alone with the child and pray over her and sing to her until she passed away a few hours later. Another doctor who came on later in her shift pronounced her dead and suggested that the child "could have been president."
The resident reported that had the child lived, she fully intended on adopting her, despite her single status and full-time medical training. She reported feeling sorry for the mother, who likely did not get counseling or emotional support after seeing medical staff take her tiny, wailing daughter away to die.
Copyright 2023, BrightPress.org