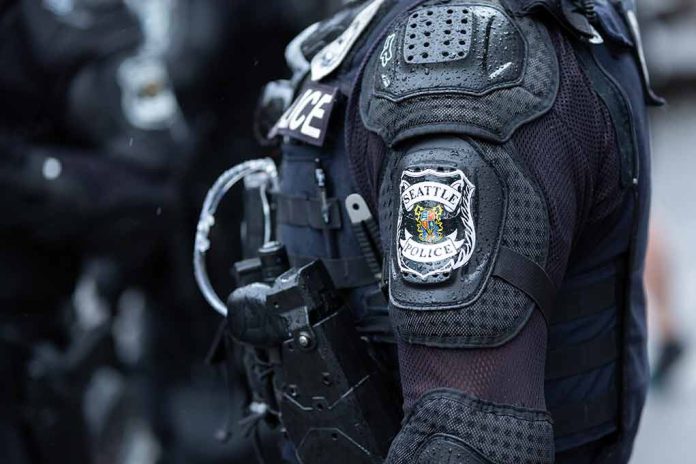 (BrightPress.org) – Lt. Jessica Taylor released 23 years of pent-up frustration with the city of Seattle in a 15-page resignation letter dated August 1st. She describes the local leadership's radicalized politics which she says has allowed crime in the city to flourish, demoralized officers, and left the police department dangerously understaffed.
She specifically named Mayor Bruce Harrell, the city council, and Police Chief Adrian Diaz and held them responsible for the city becoming enveloped in "anarchy & chaos."
Taylor appeared on "The Jason Rantz Show" on Tuesday, August 7th, and claimed the Seattle Police Department was deceptive, corrupt, and prone to favoritism. She wrote that Chief Diaz had failed in his role as a community leader, that the city council was absurd in its requests and mandates, and that the mayor was "spineless." She then suggested that prior to Chief Diaz taking over, things were getting bad, but his administration had accelerated the "slide straight to rock bottom." She also described the city experiencing a descent into chaos & anarchy.
She claimed policymakers were more concerned about appearing politically correct than they were about implementing effective policy. Their radical ideologies were not in the best interests of the public, and the results are proof, she wrote. She blamed the mayor for cowardly ignoring crime in the streets and said the city council has turned the city into a playground for criminals and taken no responsibility for the consequences of their actions. Police Chief Diaz plays political games and takes certain liberties with the truth in order to keep everyone happy, she wrote.
Seattle was home to the Capital Hill Autonomous Zone or CHAZ a few years ago in the 2020 summer BLM riots. The police-exclusion zone was occupied by armed anarchists and tolerated by local law enforcement for several days until reports of rape and murder inside the zone became too frequent.
Seattle has also had a serious problem with crime and homelessness, both hitting 14-year highs in 2022 according to city data. Their police department is understaffed, and response times for 911 calls are lengthy.
When asked for comment, the Seattle Police Department responded with a canned statement suggesting they're working to hire more officers and can't speak to individual personnel issues. They also wrote that they want their officers to be valued and respected.
Copyright 2023, BrightPress.org