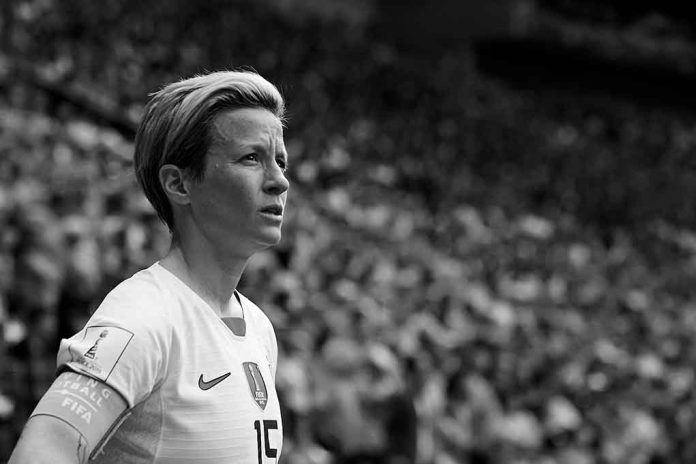 (BrightPress.org) – Former college athletic champion swimmer Riley Gaines is accusing former U.S. Women's Soccer starlet Megan Rapinoe of "virtue signaling" in response to Rapinoe signing a letter in opposition to legislation that would protect female sports from transgender-identified "women."
The timing is curious as Rapinoe and others who signed the letter "supporting transgender athletes" are generally retired or near the end of their professional careers, meaning they won't have to worry about competing with men in their sports. 
The letter is targeting the Protection of Women and Girls in Sports Act which was recently presented to the House of Representatives by Rep. Gregory Stuebe (R-FL) and has 113 co-sponsors as of April 11th, 2023.  
Rapinoe tweeted "Politicians in DC… are pushing a trans & intersex sports ban," while encouraging her followers to call their representatives and complain about it. Riley Gaines replied and retweeted her message pointing out that Rapinoe isn't playing sports anymore, and isn't likely to have kids to worry about because she's into other women. She then outright accused her of virtue signaling and pointing out Rapinoe has "nothing to personally lose." 
Continuing, Gaines said she enjoys a difference of opinion and believes everyone has a right to theirs, but she personally felt that Megan Rapione would "shiv" any man that tried to take a spot from her. Unfortunately, Gaines ended up deleting the tweets. 
Stuebe's bill would effectively make it a Title IX requirement for educational institutions to exclusively recognize biological gender, and it specifically forbids men from playing on women's teams or in their leagues. It's a strange thing we have to not only put into law but argue over, it seems. This is the bill that Rapinoe and others signed a letter against. 
"Gender equity in sport is critical," the letter reads. It bemoans a list of alleged injustices, including lack of equal pay (which exists because of unequal market demand), generalized "abuse and mistreatment," and "lack of access" for minority girls and the disabled. It then expresses a hope that "transgender and intersex kids" will be able to be included and not feel isolated. 
Copyright 2023, BrightPress.org