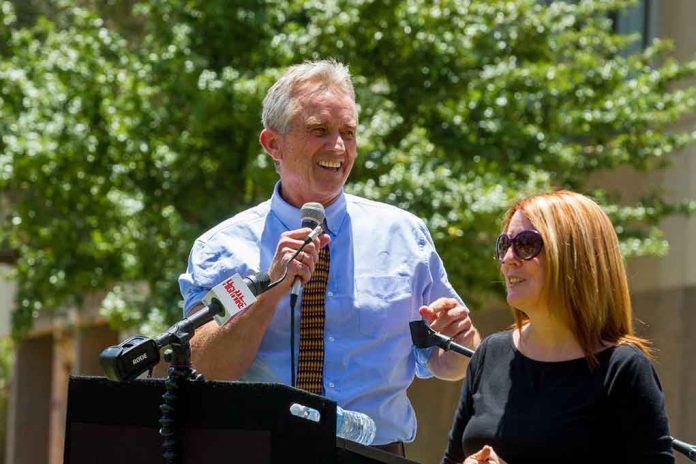 (BrightPress.org) – A Democrat descendent of America's closest thing to royalty, Robert F. Kennedy Jr. announced his intention to challenge Joe Biden for the Democratic nomination in 2024. Kennedy is the nephew of the famed JFK and son of his brother Robert or Bobby as he was called then. He completed the application on Wednesday, April 5th, and filed the paperwork for the Federal Election Commission, per the AP. 
Kennedy joins Marianne Williamson in challenging the President for the nomination. No formal announcement has been forthcoming as of April 6th, but Kennedy is a frequent commentator and huge critic of President Joe Biden. He mentioned his intention to run in March and jokingly mentioned that the biggest hurdle was getting the approval of his wife. 
He's also highly critical of the pharmaceutical industry and the government's handling of the pandemic. In his March speech, he reminded listeners that we pay an incredible amount for healthcare while our outcomes are worse or equal to other advanced nations. 
Williamson was also heavily critical of the Biden administration. A March poll showed she was making gains, with as many as 10% of respondents saying they'd probably or definitely support her. That showed substantial gains when compared to previous polls where she only received 3-4 percent at most. Is Democratic interest in voting for Biden waning? 
Williamson is touting a semi-radical agenda including universal healthcare, tuition-free college, and what she calls a "guaranteed livable wage." She's also seen as a radical when it comes to environmental protectionism. 
Kennedy is the author of the book, The Real Anthony Fauci which was heavily critical of the NIAID director primarily responsible for our pandemic response. He's also authored several other titles about climate change, and a tribute to the victims of the 9-11 attacks. 
Both candidates are considered long-shots and outsiders by the establishment elite, and they are unlikely to take the nomination from Biden. Who else will join the fray to challenge Joe? While the President has spoken of his intention to run in 2024, he has not made an official announcement yet. 
Copyright 2023, BrightPress.org