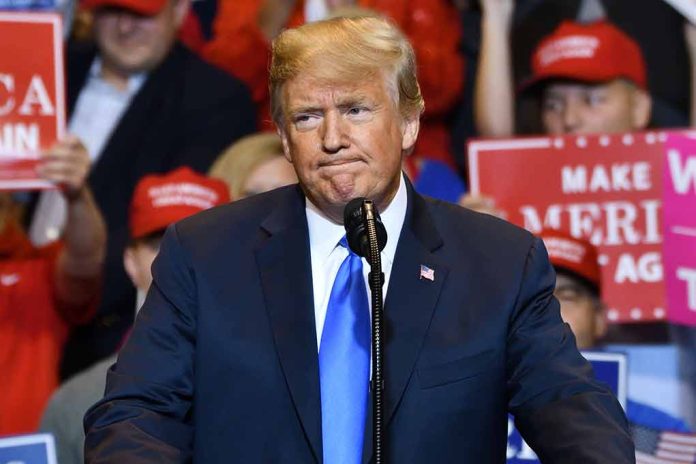 (BrightPress.org) – A new attack ad from Gov. Ron DeSantis's campaign account, DeSantis War Room, raised eyebrows and received backlash for conflating everyday gay people with extreme LGBTQ+ alphabet activists. The ad suggests that the end of Gay Pride month would be appropriately capped off with a video featuring clips from a politician "who did more than any other Republican to celebrate it." The video then proceeded to overlay a montage of shots from Wolf of Wall Street, American Psycho, and other films with clips of Trump expressing his support for homosexual Americans.
The video opens with a clip from the Republican convention in 2016, where Trump said he would do everything in his power to help protect LGBTQ Americans. That out-of-context clip was taken shortly after the Pulse Nightclub shooting, where Omar Mateen killed 49 people and injured another 53. Commenters also noted that Trump protecting Americans, LGBTQ or otherwise, is part of his role as president and isn't something he should be attacked for.
The ad also showed Trump next to Caitlyn Jenner, a prominent conservative transsexual. The next cut shows a meme of Ron DeSantis featuring lightning bolts from his eyes with the word "NO" prominent on the screen. The ad becomes increasingly ridiculous after that, cutting to a headline that says "DeSantis Signs 'Most Extreme Slate of Anti-Trans Laws in Modern History'" over techno music.
The ad then features several notorious characters, including Jordan Belfort from Wolf of Wall Street and serial killer Patrick Bateman from American Psycho, who are compared to DeSantis as if those evil characters are something to reach for. More headlines pop on the screen which call DeSantis "evil" and "draconian" for his legislative efforts to protect kids in Florida from radical gender ideology and LGBTQ+ activism.
The video ends with a graphic of DeSantis showing him with red eyes and sharp teeth, comparing him to a crocodile. The implication being he will aggressively combat LGBTQ ideology is lost in what appears to be more of a general assault on gay Americans. This is the second time recently the DeSantis campaign has received negative feedback for its attack ad; previously, they were caught using deep fake AI images to imply Trump kissed Anthony Fauci.
Copyright 2023, BrightPress.org