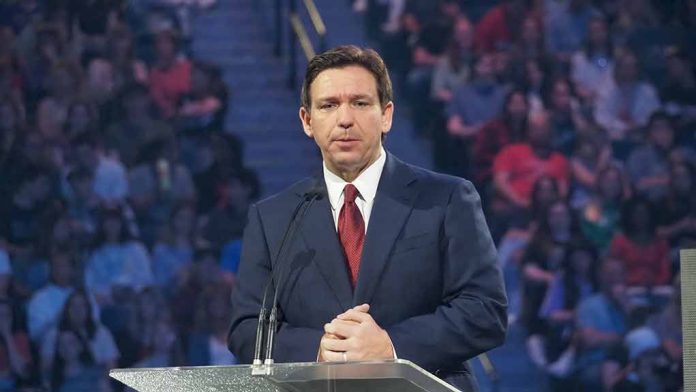 (BrightPress.org) – Florida Governor Ron DeSantis' remarks comparing basketball and baseball have garnered outrage from liberal pundits, declaring them "racist."
It all started when the Florida governor told CBN in an interview that he considered basketball athletes to be "freaks of nature," and that baseball was far more "meritocratic," meaning that you didn't necessarily have to be the best athlete to contribute to a baseball team in some way.
DeSantis said further that "there's kind of a place for everybody" on a baseball team, that those who are willing to work hard and practice will succeed, and that success in a baseball game is not necessarily determined by raw athletic ability.
It didn't take long for many of DeSantis' detractors to fixate on the governor's "freaks of nature" comment. USA Today columnist Mike Freeman called the comment racist, and declared that the governor was clearly playing on "racist tropes."
Freeman said that the comments were racist because DeSantis was "talking about two leagues," and that because the NBA is mostly black, the governor's comments were clearly made to denigrate black basketball players.
Freeman also called DeSantis one of the "most prominent anti-Black politicians alive."
Bobby Burack, a writer for OutKick, wrote in a dissenting column that "Freeman embodies the problematic nature" of news publications hiring writers solely to "screech about racism," saying that "there is not enough racism to screech over." He accused Freeman of "manufacturing examples," or creating false outrage about the governor's comments.
Burack also said that DeSantis was correct in saying that baseball is less athletic than basketball and that Americans have always understood basketball players to be far more athletic than baseball players.
The Root, a left-wing news site that sports the slogan "Black News and Black Views with a Whole Lotta Attitude," said that "it doesn't take much" for the Florida governor "to do or say anything racist."
The column, written by Candace McDuffie, said that DeSantis had appealed to a "disgustingly racist trope," and that he was clearly trying to "disparage" a mostly black sports league by calling them "freaks of nature."
Copyright 2023, BrightPress.org