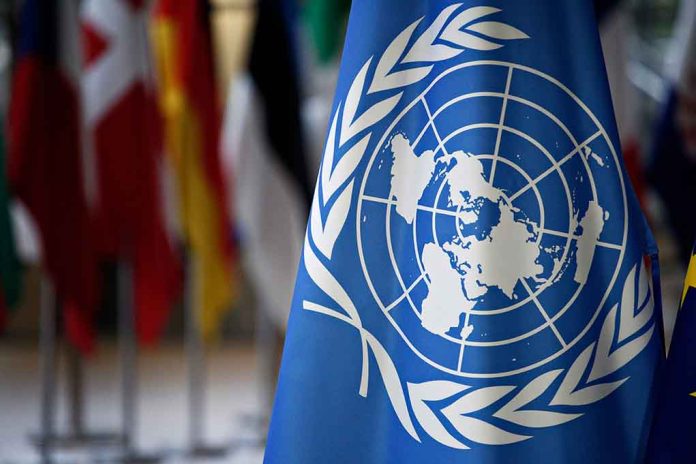 (BrightPress.org) – Six countries joined Russia in opposing a United Nations General Assembly resolution on February 23rd which condemned the war in Ukraine and laid the lion's share of the blame on the Russian Federation. The resolution called for an end to the fighting, and for Russia to withdraw.
However, many of the 141 countries who voted to pass the resolution continue to funnel weapons, money, and logistical aid into Ukraine to keep the fighting going. The UN continued to refuse to acknowledge the Republics of Donetsk and Lugansk, the newly formed breakaway states in southeastern Ukraine, also known as the Donbas region. Only a handful of states including Russia, Syria, Sudan, Nicaragua, Belarus, and North Korea recognize the independent states as sovereign nations.
Many of those same countries joined Russia in opposing the resolution, including Syria, Eritrea, Mali, Nicaragua, North Korea, and Belarus. While holding no binding power to force Russia to withdraw, the resolution is a largely symbolic move to condemn the Russians.
A similar resolution was pushed through in October, which censured Russia for annexing territory. Mali and Eritrea abstained from that vote at the time but supported Russia this time around. Key abstentions for this vote included China, India, and South Africa.
The vote comes as Friday, February 24th marked the one-year anniversary of the war, though hostilities have been ongoing since the 2013-14 coup ousted Russian-friendly leadership in favor of a regime far more friendly to Western governments.
The U.S. also announced an additional $2 billion military aid package, more taxpayer funds into the war machine. Not everyone is pleased; infamous firebrand Rep. Marjorie Taylor Green (R-GA) is promising an audit of Ukrainian war spending while Biden's lackeys cleverly maintain "no evidence exists" to suggest that Ukraine is abusing the funds.
Would the evidence exist if someone looked for it? Ukrainian President Zelenskyy's net worth is a curious point of contention among online theorists, conservative estimates suggest he has tens of millions in property and cash. The George Soros-funded Politifact acknowledged a Forbes report that suggested Zelenskyy's net worth to be between $20-$30 million – is that enough evidence of corruption to warrant an audit?
Copyright 2023, BrightPress.org