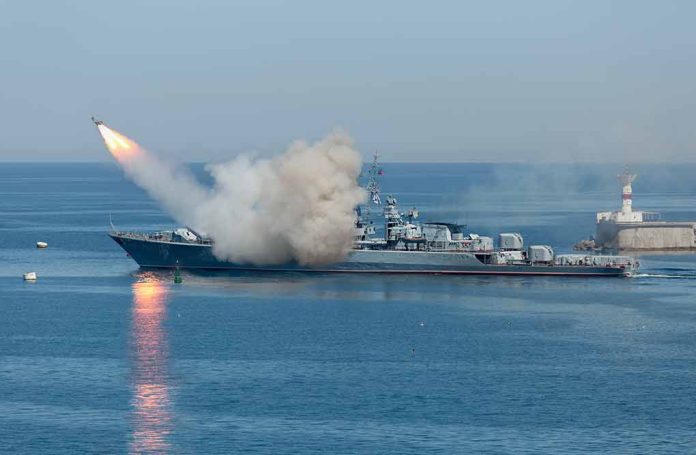 (BrightPress.org) – A cargo vessel destined for the Ukrainian port of Izmail was detained in the Black Sea and inspected after Russian military vessels fired warning shots to get them to stop and submit to the search. The interaction marks the first such incident after Russia left the brokered trade agreement that allowed Ukraine to export limited goods.
Russian defense officials speaking through their news service, Tass, said that their ships had fired warning shots after the Palau-flagged ship would not stop upon request. Once they were able to board and search the vessel for weapons or contraband, they were allowed to continue to Ukraine.
In their statement, the Russian Defense Ministry said they used automatic small-arms fire in order to force the other ship to stop after its captain would not submit to verbal requests made by radio. They said the incident occurred around 6:40 am local time on Sunday, August 13th.
After the vessel stopped, Russian military men on a Ka-29 helicopter searched the vessel.
Ukrainian adviser to President Zelensky Mykhailo Podolyak called it a "deliberate attack" and suggested it violated international law. Podolyak said that Ukraine would draw its own conclusions and respond in the "best possible" way in a statement on Twitter.
Last month, Russia exited a deal arranged by Turkey and the United Nations that allowed the limited export of grains and other trade after claiming they weren't seeing benefits from the arrangement. The deal allowed grain to be exported which was helpful in stabilizing some poorer countries who depend on food imports in order to support their population.
Russia announced the creation of "humanitarian corridors" in the Black Sea last week to ostensibly allow trade to continue, many were uncertain how vessels in the corridors would be treated. It's now clear that they might be stopped and searched under threat of violence.
Copyright 2023, BrightPress.org