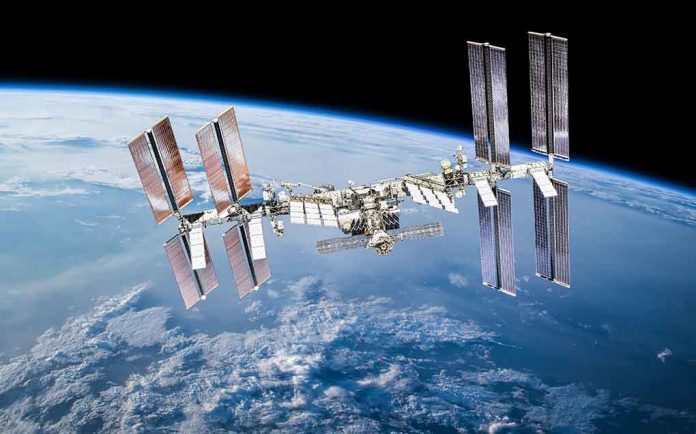 Russia CANCELLATION Announcement – They're Done!
(BrightPress.org) – During the post-Cold War era, the United States and Russia collaborated on numerous projects. One of the most visible was the International Space Station (ISS). That is now coming to an end.
Breaking news: Russia on Tuesday announced it will withdraw from the International Space Station (ISS) project after 2024, signaling an end of an era in one of the last remaining areas of cooperation between Russia and the United States. https://t.co/NQQ8Tz4H4P pic.twitter.com/qQAAy91SNB

— The Washington Post (@washingtonpost) July 26, 2022
On Tuesday, July 26, the head of the Russian space agency Roscosmos, Yuri Borisov, said Russia has decided to leave the ISS after 2024. The US, Russia, Canada, Europe, and Japan operate the station that orbits 260 miles above the Earth. For almost 22 years, the five countries have used it as a base for scientific study and technological testing that may one day take people to the moon and Mars.
The Russian decision was not a surprise. Kremlin officials have talked about building their own space station for some time and complained that the ISS was getting old and worn out. Still, some believe the Kremlin is using the station to try and gain relief from sanctions the US and Europe have imposed over its war in Ukraine.
In June, Borisov's predecessor said Russia might be open to extending its presence on the International Space Station if the US lifted sanctions against its companies involved in space manufacturing.
The US government said it hadn't heard the news directly from Russia. NASA Administrator Bill Nelson reported America plans to use the ISS through 2030. Still, some say it may be challenging, if not impossible, to maintain the massive space laboratory's orbit without Russia once it pulls out.
Copyright 2022, BrightPress.org