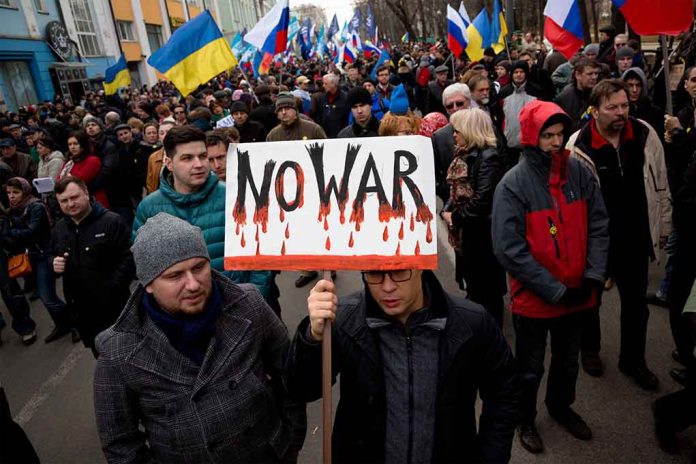 Anti-War Protests in Russia Become More Violent
(BrightPress.org) – The war in Ukraine isn't going well for Russia. In the northeastern Kharkiv region, the smaller country recaptured approximately 8,000 square miles from the Kremlin, doing serious damage to opposition equipment and troop numbers along the way. The fallout caused President Vladimir Putin to call up 300,000 reserve troops recently, leading to what seems to be an adverse — and violent — reaction from some of the Russian people.
Over 1,300 people were detained in Russia after rare anti-war protests were held in the wake of President Vladimir Putin's announcement of a military mobilization.

The protests in Moscow and St. Petersburg included many women who chanted "No to war!" and "No to mobilization!" pic.twitter.com/j8OBGPMjfl

— Radio Free Europe/Radio Liberty (@RFERL) September 22, 2022
On September 22, Newsweek reported a string of incidents involving Molotov cocktail bombings at government installations in several regions of the massive country. Military recruitment centers are the favored targets. Altogether, more than a dozen buildings have fallen victim to firebombings since the Ukraine war began.
Protests also erupted in the country at the onset of the invasion, with participants shouting, "no war, no mobilization." More than 1,300 people went to jail for voicing their displeasure with the government. Following the reserve troop mobilization decree, a new wave of protests swept across the country.
The Kremlin has strict, authoritarian rules against speaking out in opposition to its war. Back in March, in response to the initial explosion of protests, the government banned anti-war reporting and protesting. Rules against disparaging the military and "fake news" with broad interpretations ensured the state's control over the flow of information.
Copyright 2022, BrightPress.org