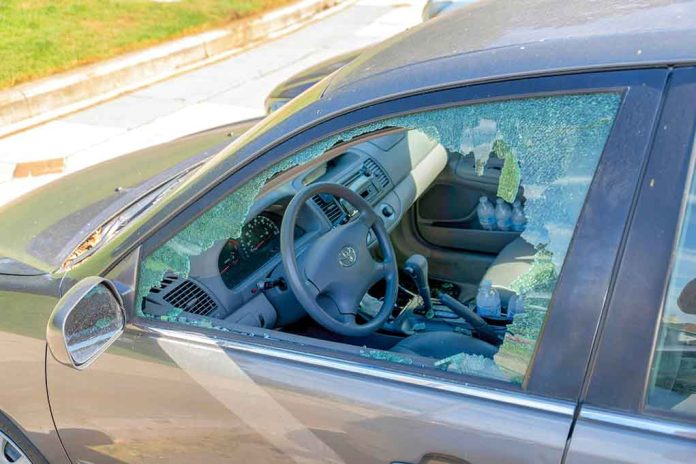 (BrightPress.org) – A CNN reporter and her film crew were robbed while attempting to film a segment on street crime outside of City Hall in San Francisco. Additional security watching their vehicle was not enough to prevent the smash & grab in the heart of the city.
Snapping pictures of a smashed window and the getaway car was all the victims were able to do in the brief 4 seconds it took the thieves to break the window and snatch their spoils before making their getaway.
Thankfully, they captured the license plate number of the vehicle used to escape; however, will San Francisco police investigate and make arrests? Will the district attorney charge the culprits? Will their punishment include jail time, if so? These are all valid questions.
Ironically, the film crew in question was shooting a segment on rising crime in San Francisco when they were struck by the very phenomenon they were covering.
While CNN was a major proponent of the Black Lives Matter movement and "defund the police" rhetoric during the 2020 George Floyd riots, city Democrats are also beginning to question the policies. District supervisor Hillary Ronen made a passionate call for more officers to be employed and sent to her district, where crime has been rampant.
Ronen lamented the fact that she's been told repeatedly there are not enough officers to send additional patrolmen to her district. Speaking of how she felt "betrayed" by the police department, mayor, and "priorities of the city," Ronen reversed course from a 2020 tweet where she "strongly" advocated for reducing the police force she so now desperately is asking for help.
The phrase "being hung on one's own petard" comes to mind. That's a euphemism for suffering the consequences of one's own actions. In 2020, Mayor London Breed shifted $120 million away from law enforcement, and crime has only gotten worse since that time. Homicide in 2020 spiked 20% versus their 2019 numbers and went up again by 17% in 2021. In December 2021, Breed had to reverse course and make an emergency request to give the police more funding. Things are still so dire, that a 911 burglary call made in February of this year didn't see officers respond until 15 hours later.
Copyright 2023, BrightPress.org