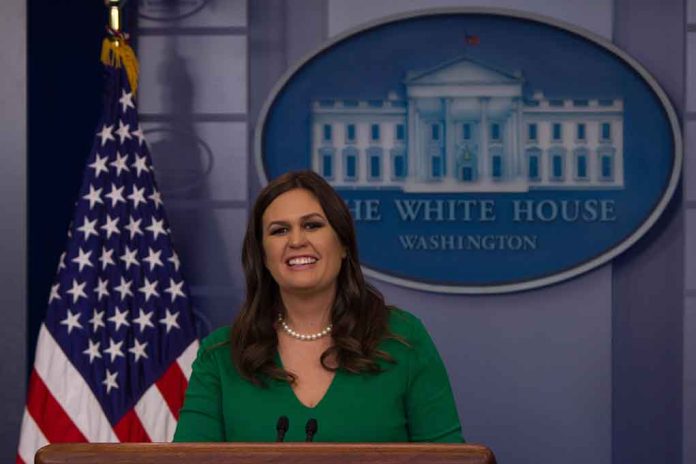 (BrightPress.org) – Arkansas Governor Sarah Huckabee Sanders shot back on Thursday, April 6th, criticizing the White House after Press Secretary Karine Jean-Pierre suggested that the decision about minor gender transitions be left up to the parents and the children themselves.
Sanders appeared on the "Faulker Focus" to share some insights from her state and how they decided to handle this gender trend that seems so popular with today's youth.
She first criticized Washington for not contributing anything meaningful to the conversation and explaining the need for Republican governors to step up and speak out on the issue. She also reiterated that preventing kids from making lifelong permanent medical decisions is one of the ways Arkansas is protecting them. She said that the bans on surgeries and hormone treatments empower parents to make the best long-term decisions possible for their kids.
An additional bill was approved and sent to Gov Sanders to sign that would also require parental consent for teachers at public schools and universities to use any pronouns inconsistent with the child's biological sex. The same standard is also applied to alternative names. The schools themselves are additionally prohibited from requiring teachers to use alternative pronouns.
Sanders added that the parents "have to be involved" and further emphasized that ultimately they are "the decision makers," not teachers, school administrators, or anyone else. She called the attempts by some policymakers to limit or altogether cut parents out of the picture "unacceptable." 
Sanders also explained that children don't have the mental faculties to make these kinds of decisions, and gave the example of her kids changing their desires for breakfast and Halloween costumes frequently.
Last week Jean-Pierre took flak from Twitter users and the public at large when she implied the transgender community was "under attack" by "anti-LGBTQ bills" just days after a woman who identified as a trans man attacked a Christian school in Tennessee and killed 6 people, including 3 small children.
Commenters were quick to point out that transgender folks weren't attacked in that incident and cajoled Jean-Pierre with accusations of gaslighting, denialism, and outright lies. 
Copyright 2023, BrightPress.org