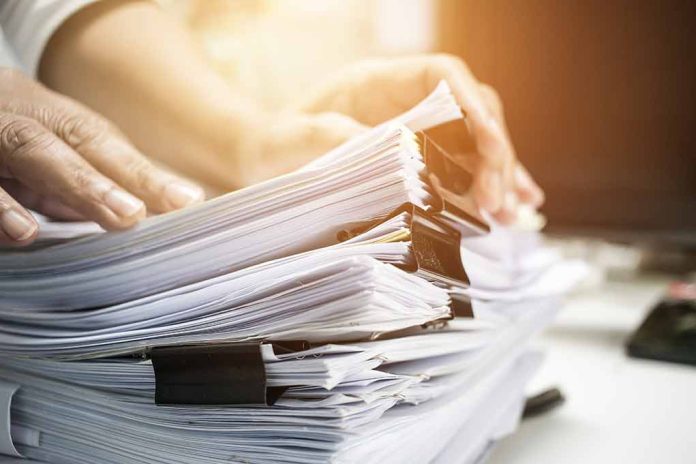 (BrightPress.org) – A middle school mom from Texas was unpleasantly surprised when she was asked to sign a non-disclosure agreement (NDA) in order to gain access to her child's public school on August 15th.
Amber Longacre decided that was ridiculous and acquired legal counsel to make an official complaint after spending an entire day trying to get her child enrolled at Kitty Hawk Middle School in the Judson Independent School District.
She was denied entry and served a "take it or leave it attitude" by a school resource officer and other school employees when she refused to sign a lengthy NDA as a condition of entry into the building. Longacre said that in years past, they were only required to show a valid ID to gain access.
A new system now requires them to show ID, enter personal identifying information like phone and address, and sign the NDA. Longacre was confused and said she didn't know what the agreement actually prohibited her from discussing.
In her legal complaint, Longacre's counsel reminds the district that Texas law encourages parents to "actively participate" in their children's education. It also says the check-in policy is inconsistent with the law. They called the NDA "an abuse of power," and further argued that it was likely unconstitutional and in violation of state and federal laws.
Director of Public Advocary Aaron Terr is with the Foundation for Individual Rights and Expression (FIRE). He told the Daily Caller that NDAs like this are generally used for concealing trade secrets and proprietary technology between businesses. He further suggested it was difficult to comprehend the necessity for something like this simply to enter a public school.
In a video she recorded where she complained to Assistant Superintendent Joseph Guidry, Longacre argued that she was perfectly within her rights to discuss whatever she witnessed or experienced at the school. The school's own policies and procedures do not state a requirement to sign a non-disclosure agreement. He originally claimed that the policy was in place to protect the rights of the children, but quickly backpedaled and said he'd speak with the principal at the school.
Lawyers for the school told Longacre on August 22nd that the NDA requirement was removed from the sign-in process. In their response to her complaint, they claimed the document was a default setting within the visitor system.
Copyright 2023, BrightPress.org