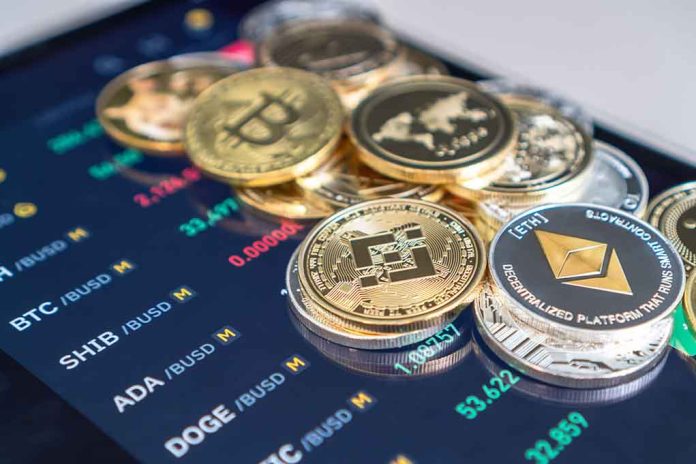 (BrightPress.org) – Securities and Exchange Commission (SEC) Chairman Gary Gensler was stunned by a surprise question during his testimony on Capitol Hill on Tuesday, April 18th when Rep. Byron Donalds (R-FL) switched gears to ask him about the Steele Dossier. 
The House Appropriations Subcommittee hearing was primarily about cryptocurrency and the SEC's recent crackdown against firms like Binance (currently being sued by the SEC). The SEC is also potentially targeting Coinbase, the largest exchange in the U.S., they received a notice from the SEC about potential enforcement action.
Rep. Donalds was curious about Gensler's time as CFO for the 2016 Hillary Clinton campaign and asked him if he facilitated the payments for the Steele Dossier. The Steele Dossier was essentially a pack of lies, fabricated whole cloth in order to tar Trump's presidential bid with allegations of kinky behavior in a French hotel along with other wild allegations. It circulated widely shortly before the election, and it helped spawn years of Russia-gate conspiracy theories attempting to claim Donald Trump was installed by Russians meddling in U.S. elections. 
He asked directly if Gensler facilitated payments for the dossier, which caused Gensler to stumble over his words. After being prodded to give a "yes or no" reply, Gensler claimed he was not aware of the transaction. The dossier gave endless fodder for the media industrial complex to spread lies about Donald Trump, and previous testimony by Clinton campaign chairman John Podesta indicated Gensler was the primary individual involved in handling the finances for the campaign. 
Gensler was additionally accused of herding cryptocurrency businesses into the hands of China, as Hong Kong has recently become friendly to the industry in an attempt to attract more businesses. Rep. Tom Emmer (R-MN) called Gensler "an incompetent cop" and suggested his regulation by enforcement style lacked nuance and flexibility. Emmer is a cryptocurrency advocate and one of the four co-chairs of the Congressional Blockchain Caucus. 
Expect Gensler to be a regular visitor to Congress, as the debate over cryptocurrency and its future in the American economy will continue to rage over the next few years. 
Copyright 2023, BrightPress.org