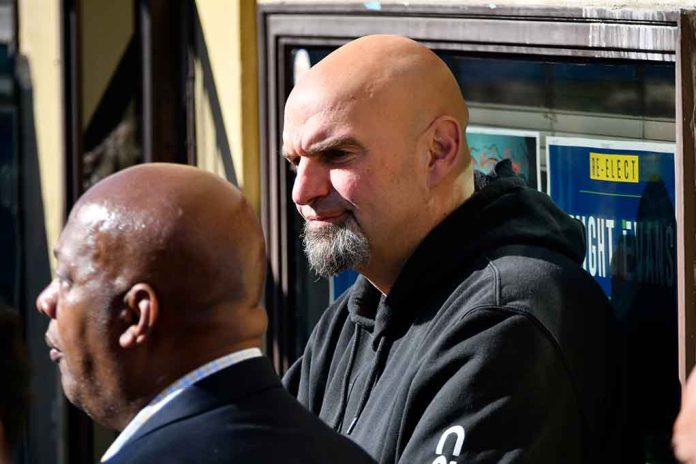 (BrightPress.org) – Senator Joe Fetterman (D-PA) returned to Congress on Tuesday, April 18th following a 2-month hiatus after he checked himself into Walter Reed Army Medical Center for clinical depression. Fetterman sought treatment in February after he had experienced feeling lightheaded, and less than a week later, he checked back in for clinical depression. 
Folks were concerned about a possible recurrence of a stroke, but his communications director said there was no evidence of that at this time.
Fetterman had a stroke during his campaign which left him with permanent difficulties processing audio and speaking clearly. His gaffes circulated widely, but he nevertheless beat Republican Mehmet Oz for the hotly contested Senate seat. While he was roundly supported for seeking treatment for his depression, many Republicans questioned his fitness for the high-stress position of a U.S. Senator. 
Fetterman appeared in good spirits wearing his trademark hoodie and gym shorts to his first return to Congress. He placed his hands over his heart in a greeting to the media photographers who had been alerted ahead of time of his return.
His absence happened to coincide with Senator Diane Feinstein (D-CA) also being absent from the Senate. The 89-year-old suffered from complications after she had a battle with shingles, and has yet to return to work though she keeps expecting to come back "soon." 
Her absence has caused a holdup in the Judiciary Committee in the approval of Biden's nominees for federal judgeships. Without her presence, the split between Democrats and Republicans is an even 50/50, which has kept them from moving forward. Sen. Chuck Schumer has spoken of temporarily replacing Feinstein in the interim, but that would require the approval of Republicans who aren't keen on the idea. 
Republican Senator Mitch McConnell (R-KY) is another older member of the Senate who had a serious fall 6 weeks ago. He was able to recover with an intensive home rehab program and returned to the Senate on Monday, April 17th. 
Copyright 2023, BrightPress.org