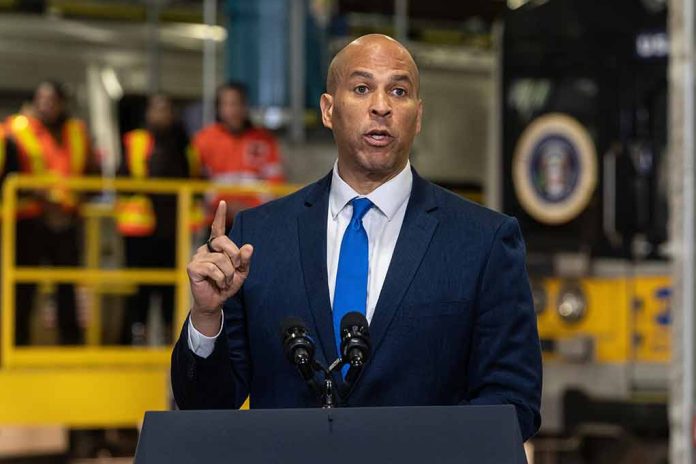 (BrightPress.org) – Senator Cory Booker (D-NJ) seemed to avoid the question as to whether President Joe Biden's son, Hunter Biden, got off easy with a plea deal on Tuesday, June 20 with his indictment from the Department of Justice.
The president's only surviving son pleaded guilty to two tax misdemeanors, both federal charges, and will likely not face any jail time. The charges come after he failed to pay taxes on at least $3 million that he earned in overseas business dealings.
CNN's Chris Wallace asked Sen. Booker if he believed Hunter Biden received a slap on the wrist. The senator then went on a tangent discussing a "two-tiered" justice system that favors the rich over the poor, saying that "Literally thousands of Americans can't get jobs for doing things that four or a few at least of former presidents have admitted to doing."
When Wallace asked further if he thought that the "two-tiered" justice system prosecuted Democrats more favorably than Republicans, Booker said "absolutely not," citing Biden's appointment of Merrick Garland as attorney general as proof that the president is interested in prosecuting everyone fairly. He also said that Hunter Biden is cooperating with authorities, whereas former President Donald Trump supposedly isn't.
The news comes as Trump was hit with a federal indictment spanning 37 felony counts related to the mishandling of classified documents, which, if found guilty, could land the president in prison for a considerable amount of time.
Republicans have repeatedly criticized the Biden administration for its alleged bias against conservatives when handing down federal indictments. Republican Tennessee Senator Marsha Blackburn, in an op-ed for Newsmax, called Trump's indictment an example of "two tiers of justice," declaring that "If your last name isn't Biden or Clinton, you could be targeted next."
She also noted how former Secretary of State Hillary Clinton permanently deleted 33,000 emails from her private email server and received no punishment for what is allegedly classified as mishandling classified information.
Copyright 2023, BrightPress.org