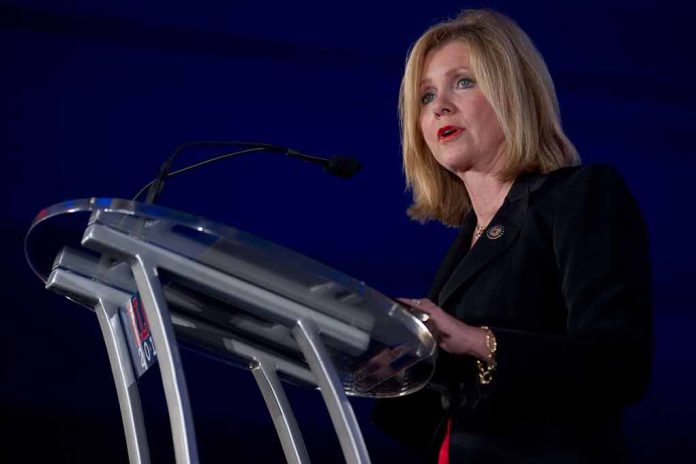 (BrightPress.org) – A Republican Senator has proffered the theory that the establishment used the submersible disaster to obfuscate the recent revelations from multiple whistleblowers that Hunter Biden and, by extension, his father, were participating in corrupt and illegal business deals and other financial shenanigans.
Sen. Marsha Blackburn (R-TN) asked why the Navy waited days before announcing their findings that suggested the sub was destroyed just hours after venturing underwater to the Titanic. In the tweet, she also acknowledged that the Navy's announcement came on the same day, Thursday, June 22nd, as two key IRS whistleblowers testified before Congress regarding the investigation into Hunter Biden's finances.
The Navy waited until a debris field had been located by rescue authorities before announcing that it recorded a sound with their advanced underwater equipment that they suspected was the sub imploding an hour and forty-five minutes into its deep-sea expedition. The caveat given as a post hoc explanation is that the Navy wasn't sure what they recorded was the implosion.
Inflammatory testimony was publicly revealed to the House Ways and Means Committee on the same day from two IRS whistleblowers, Gary Shapley, and one unnamed investigator. The first major story was text messages sent by Hunter Biden coercing financial investments and payouts from a Chinese business associate using his father as a rhetorical cudgel. Biden said he was "sitting here with my father" twice in the exchange.
The second investigator revealed that their investigation into Hunter Biden's finances concluded that the First Son wrote off tens of thousands of dollars to pay prostitutes and membership into exclusive adult clubs. The testimony also suggested Hunter Biden violated the Mann Act, which outlaws trafficking women across state lines for the purpose of paying them for adult relations.
This followed the news that the Department of Justice reached a sweetheart deal with Hunter Biden's attorneys. He will only be charged with two tax crimes and one gun charge; whether or not he'll serve time in prison remains to be seen.
Copyright 2023, BrightPress.org