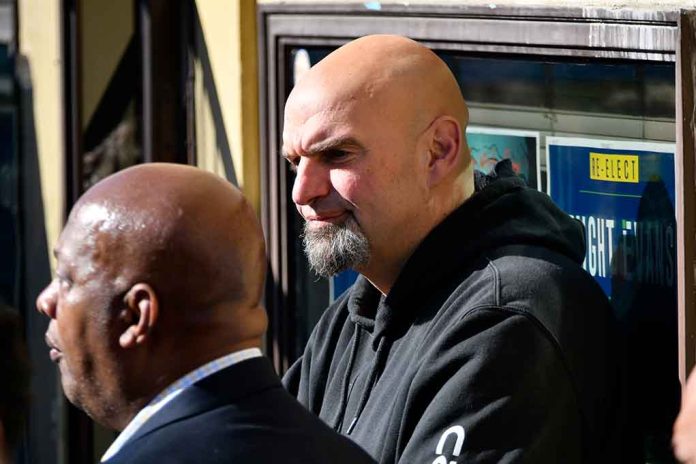 (Brightpress.org) – Pennsylvania Democratic Senator John Fetterman was hospitalized on Wednesday night, February 8th, after he felt lightheaded during a retreat for Senate Democrats. Fetterman had a stroke last year during his campaign, which has left him with difficulty speaking and processing complex information. Early reports indicate he had not suffered another one, thankfully.
Fetterman was taken to George Washington University Hospital where additional testing was ordered by his doctors and he was kept for observation. Communications Director Joe Calvello told reporters he was "in good spirits" and surrounded by his family and staff.
His controversial run against Republican candidate Mehmet Oz was a major victory for the Democrats as they were able to claim a seat previously occupied by Republicans. His election campaign was one of the most expensive in Senate history with more than $300 million being spent to win his bid.
Fetterman nearly dropped out of the race when he suffered a near-fatal stroke in May of 2022. He was left with difficulty processing and maintaining speech, and the effects are plainly visible as he often struggles to complete sentences.
One wonders how Fetterman will be able to cope with his four committee assignments. He currently sits on the Senate Housing, Environment, and Economic Committees as well as the Special Committee on Aging.
Before his recent hospitalization, he was proud to announce that he's co-sponsoring four Senate bills, including one that seeks to ban 'assault weapons.' This latest political stunt by the Democrats seeks to ban semi-automatic firearms, including pistols and rifles. It's unlikely to get past the House Republicans due to its questionable legitimacy under the Second Amendment.
He's also co-sponsoring the Washington, D.C. Admission Act which seeks to include the district as our 51st state, giving the Democrats yet another tactical advantage and extra votes in the electoral college. Neither of these ridiculous bills will fly without House Republicans approving the measures.
Despite his condition, Senator Fetternan continues to work with the Democrats to further their agenda. However, with ongoing speech difficulties and now a hospitalization, concerns are again being raised about his fitness to fulfill his duties. The nation will be closely watching to see how these events impact Senator Fetterman's role in the Senate.
Copyright 2023, BrightPress.org