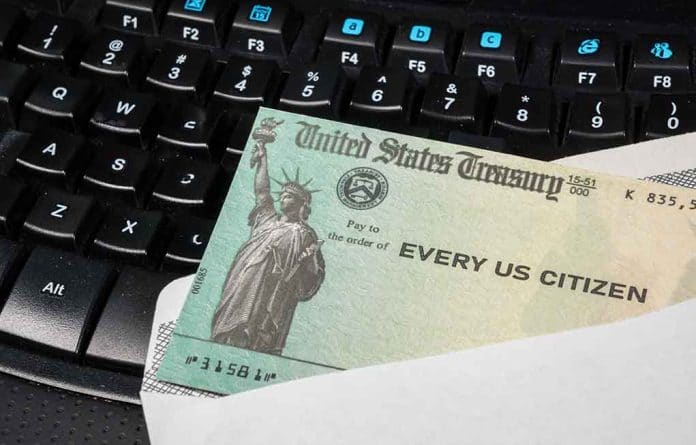 (BrightPress.org) – During the peak of the COVID-19 pandemic, Americans got a little boost from Uncle Sam as companies laid off millions or reduced workers' hours. In recent weeks, COVID-19 has retreated quickly. The government reports fewer infections and hospitalizations, and states are lifting virtually all COVID restrictions.
That's not stopping some Democrats from calling on President Joe Biden to offer a fourth pandemic-related check. Is that even a political possibility in 2022? While rising gasoline and inflation prices hit American wallets, it could be a stretch for Congress to authorize more direct payments to Americans.
Should You Expect Another Stimulus Check in 2022?
In 2020, Congress authorized two rounds of stimulus checks, followed by a third in March 2021. In the months since then, some economists and Democratic lawmakers have called for payments as long as the pandemic is officially present. Others are pushing for a $2,000 monthly recurring payment to Americans.
On Friday, March 4, the government reported that the economy created 678,000 jobs. This figure far surpassed the 440,000 that economists predicted. The unemployment rate also dropped to 3.8%, the lowest it's been since the pandemic began.
That could make it very difficult for Democrats to pass another stimulus program. In March 2021, moderate Democratic Sen. Joe Manchin (D-WV) almost voted against the Democrats' go-it-alone American Rescue Act. With inflation sky-high and unemployment low, it's doubtful the West Virginia senator would bite again. To pass any controversial legislation, the Democrats in the Senate would need unanimity among their 50 members in the evenly divided Senate.
While some states have created stimulus programs, don't expect the federal government to follow suit in 2022, especially as the midterm elections approach quickly. Still, you might qualify for a stimulus check in New York, Indiana, California, or Florida. Unfortunately, to qualify, you may need to meet specific requirements.
Are You Qualified For A Recovery Rebate in Your 2021 Federal Tax Returns
If, for some reason, you missed all or part of the stimulus payment you were supposed to receive, there may be some good news. While the Internal Revenue Service (IRS) is no longer issuing Economic Impact Payments, the tax agency makes it easy for you to claim a Recovery Rebate Credit on your 2020 or 2021 federal tax return.
To claim the credit, you'll need to file your taxes by April 15, 2022, for 2021. If the government owes you, the IRS will reduce any taxes you owe for 2021, or the IRS will include a refund in your tax return.
Copyright 2022, BrightPress.org