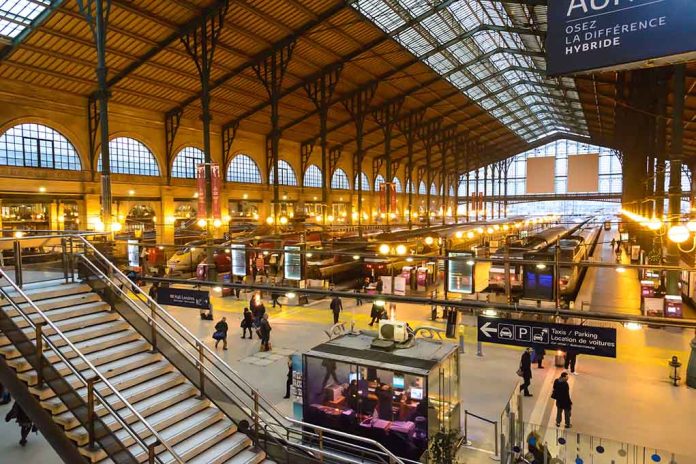 (BrightPress.org) — Six people were injured in an unprovoked bladed weapon attack at Paris' Gare du Nord train station early morning Wednesday, January 11th. The attacker was shot by police just one minute after his rampage began, leaving one person seriously injured and five others with minor wounds.
French Interior Minister Gerald Darmanin said the suspect was in critical condition at the hospital and it is uncertain whether he will survive. He told reporters that the suspect was "neutralized" within sixty seconds and thanked officers "for their effective and courageous reaction."
He further credited the speedy reaction with preventing the loss of life. Giving details, he explained that the attack began at 6:42 a.m. local time and was stopped within a minute by officers' reactions. He hit his first victim 15 times before moving on to others. That victim was the most critically injured. It was unclear how many times the suspect was shot.
Darmanin explained that the weapon used was "not a knife" but rather a homemade bladed weapon. French journalists reported that the suspect first attacked at the entrance to the train station before moving inside to attack another four civilians and one police officer. The officer was not seriously injured due to the protection afforded by his bulletproof vest.
Screams and shouts clued other officers in and they were able to respond as their colleague was under assault. French police have not indicated he was connected to extremists or terrorism, and believe he acted alone.
This attack echoes the New Year's Eve Times Square attack by 19-year-old Trevor Bickford. In that attack, Bickford unleashed a curved knife on two officers and was shot in the shoulder. He was reported to have shouted "Allahu akbar" around 10 p.m. before hitting an officer in the head and attempting to grab another officer's service weapon. He'll face a laundry list of federal and state charges which could result in life in prison.
Authorities believe he also acted alone and was radicalized after the overdose death of his father in 2018.
Copyright 2023, BrightPress.org