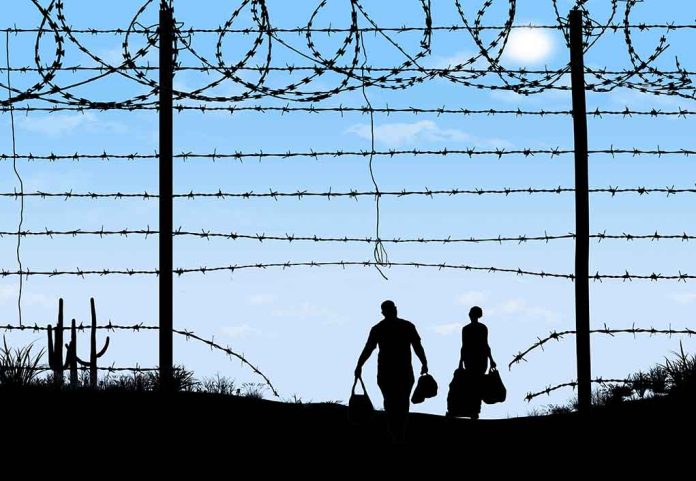 (BrightPress.org) — Federal officials continue to contribute to the crisis along the southern border, releasing massive amounts of migrants into the surrounding communities over the weekend of December 18th, 2022. Texas Governor Greg Abbott has activated the National Guard as a result, sending 400 members to El Paso after the mayor issued a disaster declaration.
Military personnel and National Guardsman constructed "a triple-stand concertina barrier" or a huge sprawling spiral of interwound lengths of razor-wire to prevent migrants from crossing the Rio Grande into El Paso. The spot where it was deployed has been a specific location where huge numbers crossed over the last few months. The hope is that the wire and servicemen will encourage migrants to turn back.
Border Patrol released upwards of ten thousand migrants into El Paso over the last week, many of them sleeping on the street in freezing weather as the shelters are overloaded and above capacity. The city published a dashboard that suggests Border Patrol was detaining sixteen hundred migrants per day while releasing something like six hundred folks who've already been processed into the country.
Migrants sleeping on the street in Downtown El Paso tonight. pic.twitter.com/dVtKVufBUm

— Shelby Kapp KTSM (@KappKtsm) December 21, 2022
Title 42 is a pandemic-era policy that allowed border patrol to "catch and release" migrants turning them back across the border into Mexico. That policy was scheduled to end this week meaning more migrants were going to be detained and admitted. The Supreme Court has put that on hold while they decide if they will hear an appeal being raised by 19 Republican state attorneys general.
Thousands of migrants are waiting for a decision in Mexico, thinking that they will have an easier time gaining admission if they wait for the policy to expire. "I want them to decide," said Jhorman Morey, a 38-year old migrant from Venezuela who's been camping out in Juarez across the border from El Paso.
Regardless it seems as if the influx of migrants across the Southern border will continue until a severe and drastic change in policy is implemented.
Copyright 2022, BrightPress.org